A2 Knives Custom Front Flipper "Warrior", Liong Mah Design (SOLD)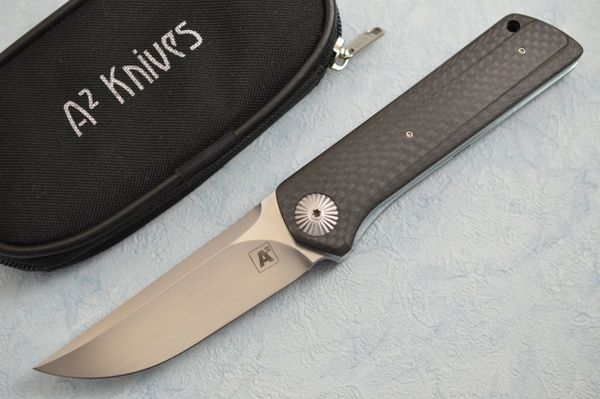 A2 Knives Custom Front Flipper "Warrior", Liong Mah Design (SOLD)
A2 Knives is a collaboration between André Thorburn and Andre van Heerden, each outstanding South African knifemakers in their own right.  The two met in 2003, after van Heerden attended a fixed blade class held by Thorburn.  By 2010, A2 Knives was born.  Van Heerden is responsible for handle and clip work, and Thorburn is responsible for blades and the mechanism.  Their passion for quality knives has lead to new designs, re-working existing designs, and a continual commitment to improving the quality and details of their collective works.
The Warrior is A2's interpretation of a Liong Mah design.  It is a liner-lock front flipper, and by far, exhibits some of the smoothest flipping action we've experienced.  Once you are comfortable with deploying the blade with your thumb (as opposed to your index finger), this knife is addictive.  Add to it the smoothness of IKBS, spot-on detent, and the "thwack" of the lock-up, and you have a folder that never leaves your pocket (or hand).  The blade is Bohler M390 steel with a hand rubbed finish. the ergonomic handle features scales of beautiful carbon fiber, the liners are blue anodized titanium, and the back spacer is milled black G10.  The sculpted pocket clip is mounted for tip-up carry.  Rounding out their attention to detail is the perfectly centered blade, and easy lock release without any evidence of lock stick.  And the blade drops closed under its own weight.  A thing of beauty!
Only 10 knives were made in this configuration.  This knife is previously owned, and in virtually mint condition.  No signs of use, wear or carry.  There's even a hole for your favorite lanyard.  Comes in an A2 padded, zippered case.

Condition:  Previously owned.
                  Never used, carried or sharpened.
•           Overall length:  9"
•           Blade length:    4"
•           Closed length:  5"