Alan Folts Custom "Steampunk" Liner-Lock Folding Knife (SOLD)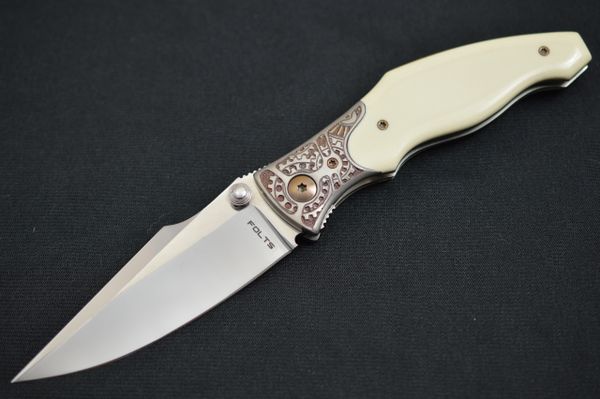 Alan Folts Custom "Steampunk" Liner-Lock Folding Knife (SOLD)
We've dubbed this liner-lock folding knife by Alan Folts, the "Steampunk" folder.  One look at the expertly carved gears in the titanium bolster, and you'll know why.  It gives the knife a very industrial look.  Highlighting the gears in the recessed areas of the bolster, you'll see a textured brass background.  The brass complements the raised brass backspacer, and brass pivot and screws.  The handle scales are white micarta.  The harpoon-shaped blade is highly polished CPM-154.  The polished finish on the blade is not very forgiving.  There are some very fine micro scratches, most notably at the transition from flat to grind.  I do not believe these are from use.  The backspacer also has a few fine micro scratches, and a tiny ding at the high point.  The liners and clip are polished titanium.
The blade opens smoothly, locks up tight with no play, exhibits no lock stick, and sits just about at center when closed.  This is a beautifully executed knife.  I am sure Alan would be happy to accommodate the new owner, and give the knife a "spa treatment".  Comes in a padded zippered case.


Condition:  Previously owned. Excellent condition
                    Never used or sharpened.
Overall length:  8 5/8"

Blade length:    3 3/4"

Closed length:  4 7/8"