Alan Folts First Ultra Modern Folder, Talonite Blade, One Of A Kind! (SOLD)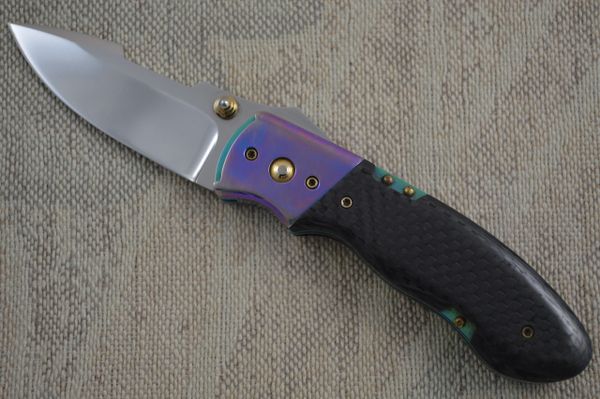 Alan Folts First Ultra Modern Folder, Talonite Blade, One Of A Kind! (SOLD)
An extremely rare knife from Alan Folts of Palm Bay, FL, and a bit of the maker's history. According to Alan, this is the 8th folder he ever built! He described it as "one of a kind". And it was the first folder of what he now calls the Ultra Modern Folder, as listed on his website. The first 12 knives that Alan made were "studies on the design and process of folding knives". Per Alan, "there was only 1 of each knife. I designed and built each one as a one if a kind project to teach myself the details and issues with my processes".
The knife is marked "CRAZY #8" inside the handle on the backspacer. He used the word "crazy" as it was his first real folder order. The 1/8" thick harpoon-shaped blade is Talonite®, a Cobalt -Chromium alloy. Talonite® is much slicker than steels, so it wears much longer. Talonite® has been tested to outlast Stellite 6K by 35% in wear tests. Talonite® rates much higher than steel and much closer to diamond or Teflon in slickness. Talonite® is slicker so it also cuts faster and easier. In addition, Talonite® is extremely easy to sharpen, holds an edge very well, and will not corrode due to its low iron content. The main problem with Talonite is cost. It contains a high percentage of cobalt, which is very expensive. All things considered, I am fairly confident that the new owner of this knife is not likely to turn it into "user".
The knife's liners, bolsters and backspacer are titanium. The screws, pivot, and all decorative studs are 24k gold plated in Alan's shop. The handle is carbon fiber. The blade locks up tight with no play. If you ordered a similar knife from Alan today, the blade would
not
be Talonite®, it would be a cobalt alloy blade and cost 4 figures.
Condition:
Previously owned. Near perfect.
Never used, carried, or sharpened.
Minor handling marks on the clip.
Overall length: 6 5/8"

Blade length: 2 3/4"

Closed length: 4"