Allen Elishewitz Custom TANK Frame-Lock Folding Knife (SOLD)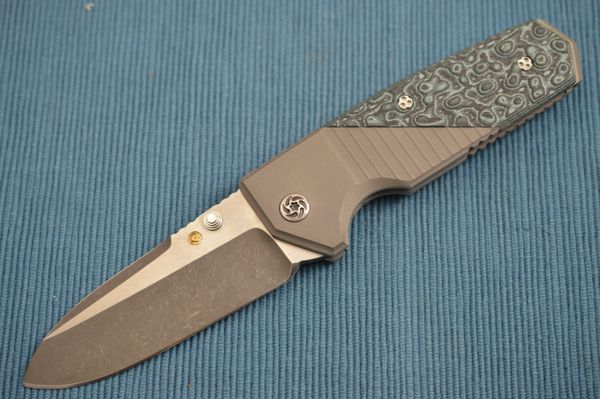 Allen Elishewitz Custom TANK Frame-Lock Folding Knife (SOLD)
Allen Elishewitz has been making knives since 1988.  He is constantly researching, refining, and developing his knifemaking skills.  Born in Texas, he has also lived in Singapore, Thailand, Taiwan, and Indonesia.  For more than 30 years he has studied the martial arts.  His training, along with his experiences as a Recon Marine, gave him the perfect background to design and build knives.  He has been a member of the Knifemakers' Guild since 1994, and currently serves as Director on the Board.  He has received numerous awards for his knives over the years.  His knives are highly coveted by both users and collectors.  His knives are aesthetically pleasing to the eye, as well as comfortable in-hand and bottom-line functional.  He currently has a line of Mid-Tech knives, and he designs knives for Hogue.
This Allen Elishewitz custom folding knife is his Tank model.  The knife features a drop point XHP Carpenter High Performance Stainless Steel blade with a dual finish - satin flats and stonewashed bevels.  The scales of this frame-lock folder are a combination of milled titanium and textured black and green / grey G10.  The knife also features a titanium backspacer, with an integral skull crusher.  The liners are also titanium, that have been sculpted and "jeweled" all the way around the knife handle.  The pocket clip is titanium and set for tip-up carry, and there are dual thumbstuds.  Allen has also upgraded the pivot (on the presentation side) and pins with custom file-work.  This knife is a beautiful example of Allen's work.  Allen's signature logo is inlaid as a gold button on the blade, forward of the thumbstud on the presentation side.  The blade opens buttery smooth with a comfortable detent, locks up vault tight, and is centered when closed.  Immaculate condition.  Comes in a padded, zippered case. 

Condition:  Previously owned. Mint.
                    Never used, carried, or sharpened.
Overall length:  8 1/4"
Blade length:    3 1/2"
Closed length:  4 3/4"