Allen Elishewitz SHADOW Custom Folder, Gold Lip Pearl Scales (SOLD)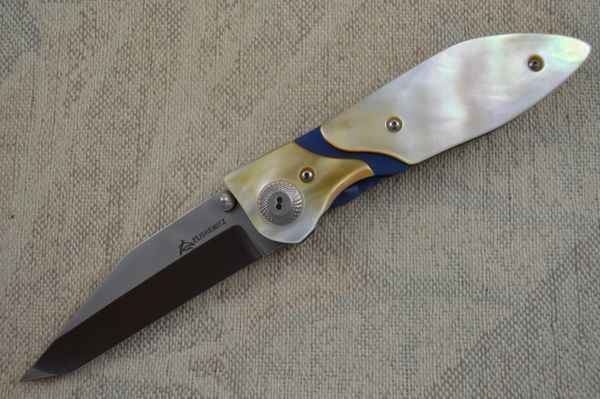 Allen Elishewitz SHADOW Custom Folder, Gold Lip Pearl Scales (SOLD)
This beautiful custom Shadow was made by Allen Elishewitz in the late 1990's. The scales are absolutely stunning, perfect, deeply marbled gold lip pearl. The colors are almost impossible to capture in pictures - it has to be seen to be believed. It features all jeweled anodized titanium liners, and a stainless "skeletonized" pocket clip. Allen thought of everything - the pocket clip allows for better visibility of the scales. The screws holding the gold lip pearl scales and the stand-offs are stainless. The tanto-shaped blade is ATS34 steel, and satin finished. The large oversized pivot and dual thumbstuds help the blade travel effortlessly when opening - absolutely smooth as silk. This knife is rock solid. It locks up tight with absolutely no blade play, and the blade is perfectly seated between the liners when closed. It is in mint condition. This is a real stunner by Allen. One that you won't be disappointed owning. I can't say enough about the condition and overall looks of this one. This is one classy, dress tactical folder!
Condition:
Previously owned. Mint
Never used, carried, or sharpened.
Overall length: 8 1/4"
Blade length: 3 3/4"
Closed length: 4 3/4"