Anthony Marfione Custom SOCOM DELTA Carbon Fiber Folding Knife (SOLD)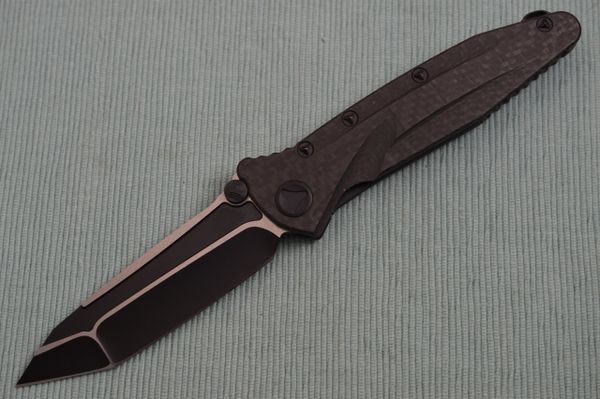 Anthony Marfione Custom SOCOM DELTA Carbon Fiber Folding Knife (SOLD)
The Socom Delta is a combination of a number of different features taken from well-known Microtech models.  Tony Marfione took the knife to the next level, with this custom version that incorporates the most modern materials and technical aspects available.  This Socom Delta tactical folder is a blacked-out version of where Tony has taken the knife.  The CPM S35VN blade was hand ground by Tony, with a complex tanto grind.  The grinds are black ceramic coated, and the flats are a brushed satin finish.  The frame-lock handle is 3D machined, high grade carbon fiber.  The tip-up titanium pocket clip bears A. Marfione, with his custom dagger logo.  All the hardware, including the screws, pivot, backspacer and pocket clip have also been blacked out with the same high quality ceramic coating.  In addition, the Beta Titanium lock bar is a significant upgrade from the industry standard 6Al-4V titanium.  Beta Titanium is an alloy that contains a small amount of Vanadium and Aluminum, which means it has a high tensile strength, a high modulus of elasticity, and is very tough.  All of which make Beta Titanium more costly.  Lastly, there are hardened stainless steel inserts where the dual thumb stud and blade stop meet with the frame.  The Socom Delta was voted the American Made Knife Of The Year at the 2012 Blade Show.  This one is a timeless classic, ready to carry or collect.
The knife was previously owned, and is in near mint condition.  I cannot find anything noteworthy.  It opens smoothly and fast with the dual thumb stud, or can be "flicked" open with your thumb.  The lock up is secure, and the lock bar releases easily without any lock stick.  The blade sits perfectly centered in the frame when closed.  It comes in a padded, zippered case. 

Condition:   Previously owned.  Mint.
                   Never used, carried or sharpened
Overall length:  9"
Blade length:    4"
Closed length:  5"