Ben Voss Lock Back Handmade Folding Knife (SOLD)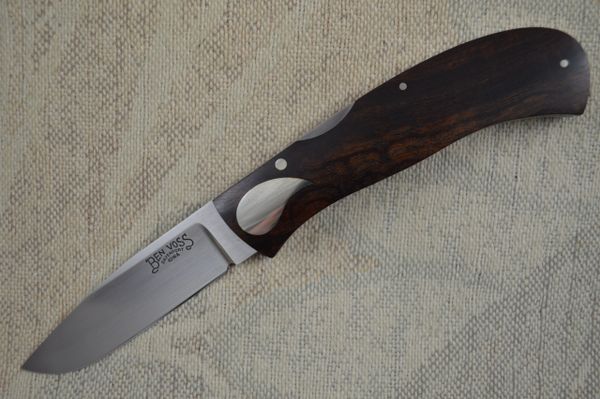 Ben Voss Lock Back Handmade Folding Knife (SOLD)
This drop point lock back folding knife from Ben Voss is in almost perfect condition.  It is from a private collection.  It shows some minor signs of storage, but only on the 2 stainless steel "teardrop" shaped inlays in the handle - and they are on the surface and cannot be felt.  The blade is marked "BEN VOSS Davenport IOWA", however Ben currently resides in Victoria, IL.  We are not sure what the blade steel is, although Ben has been known to use either 440C, ATS-34 or D2.  We were told the handle is made from stabilized walnut, each side held by 3 nickel silver pins.  And that teardrop-shaped inlay adds a nice classy touch to the overall look of the knife.  There is no nail nick on the blade.  However, it opens smoothly and with an easy pull.  The blade locks up securely with no play, and it is well positioned in the handle.

Condition:  Previously owned.  Excellent.
                    Never used, carried, or sharpened
Overall length:   7 3/4"

Blade length:     3 1/4"
Closed length:   4 1/2"