Benchmade Gold Class Cigar Cutter Auto AXIS #1500-191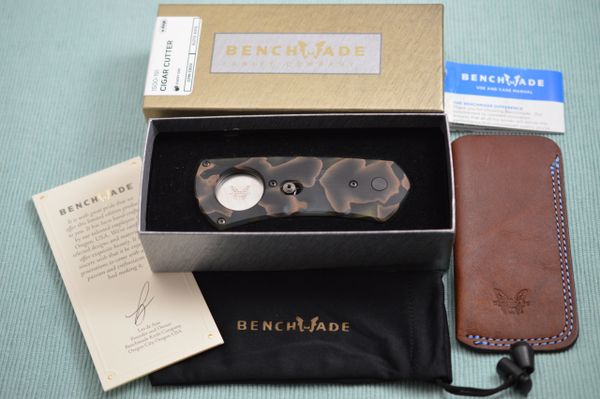 Benchmade Gold Class Cigar Cutter Auto AXIS #1500-191
Benchmade designed Gold Class straight cut Cigar Cutter.  The model number is 1500-191.  It features a CPM-S90V high-vandium stainless steel blade, Smoked Grey Chromium Nitride coated liners, Diamond-like carbon coated lock stud, Raffir Noble Brass & Bronze mesh resin composite handle scales, Black G10 composite backspacer, and Benchmade's Auto AXIS release mechanism.
There are two (2) available as of the initial posting (10/20/2020).  They are serial number 10, and serial number 135.  Both are Brand New in the box, unused, with the original packaging.  Included are the COA, Use and Care Manual, black nylon drawstring Benchmade pouch, and brown leather slip sheath.  Cutter #10 was completed on May 15, 2019, and cutter #135 was completed on June 13, 2019.
If you wanted one serial number or the other, let me know in a message after purchasing.  Otherwise, I will ship whichever one comes out of the safe first.