Bert Gaston, M.S. Damascus & Sambar Stag Fighter, Bill Moran ST-24 Inspired (SOLD)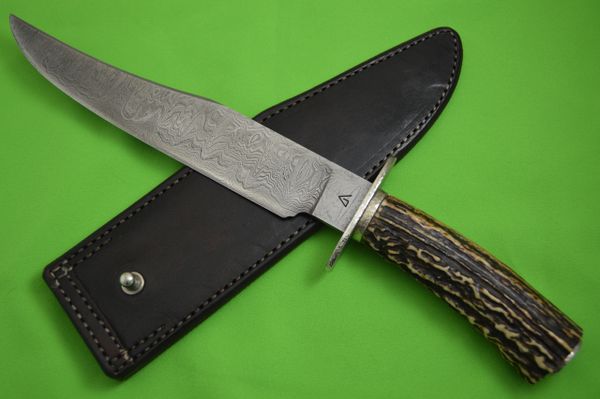 Bert Gaston, M.S. Damascus & Sambar Stag Fighter, Bill Moran ST-24 Inspired (SOLD)
Bert Gaston is a veteran instructor at the Bill Moran School of Bladesmithing in Old Washington, Arkansas.  He was on the Board of Directors of the American Bladesmith Society (ABS) for nine (9) years, until he retired.  He was also head judge for the Mastersmith rating test for many years.  Bert earned his Journeyman Smith rating from the ABS in 1989, and earned his Mastersmith rating in 1993.
This Bert Gaston Damascus and Stag Fighter has a colorful history.  I acquired this knife directly from Bert.  According to the letter Bert wrote and signed, which will be included with the knife, the blade of this knife was forged by Bert in the Spring of 1988 at what is now the Bill Moran School of Bladesmithing in Old Washington, Arkansas.  This was the very first Damascus class taught be Mr. William F. "Bill" Moran, and Bert was fortunate to be in attendance.  It is well-known that Bill Moran "rediscovered" the art of making Damascus steel.  His experiments lead him to use a combination of O1 Tool Steel and 1018 Mild Carbon Steel.  That is what was used in that first Damascus class, and that is what this knife blade is made from.  According to Bert, Bill was a hands-on teacher.  He helped Bert create the blade for this knife.  While not intended to be a copy of the Moran ST-24, the blade was inspired by the same.  Bert finished the knife sometime later, and chose nickel silver for the furnishings - guard, spacer and butt cap - and Samber Stag for the handle.  Bert built the knife with hidden tang construction.  The tang goes all the way through the handle material, and is threaded, so that it can be attached to the butt cap.  He also does not grind the stag, so that it is left in its natural state.  He only uses the best and slowest setting epoxy, so as to reduce heat and provide a very solid construction.  The Damascus blade is also etched in the Moran style.  Bert goes on to state that at a later date when he finished the knife, he was able to show the completed knife to Bill, who pronounced it an "excellent job".  Bert was extremely pleased by Bill's comment, and only recently decided to part with this piece of his knifemaking history.  Bert has never used or carried the knife.  It will come with a Kenny Rowe brown leather frog button sheath, Bert's Letter of Provenance / Authenticity, and a padded, zippered case.

Condition:  Previously owned. Mint condition
                    Never used, carried or sharpened
Overall length:      13 1/4"

Blade length:         8 5/8"
Handle length:       4 5/8"