Bill Bagwell M.S. Damascus Fighting Knife, Leather Sheath (SOLD)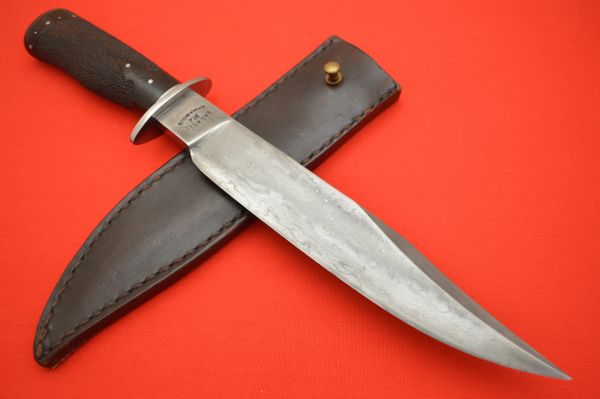 Bill Bagwell M.S. Damascus Fighting Knife, Leather Sheath (SOLD)
Bill Bagwell was one of the four founding members of the American Bladesmith Society.  He, along with Don Hastings, B.R. Hughes and Bill Moran created the ABS we know today.  Bill became a full-time knifemaker in 1969 and is believed to have been the second modern bladesmith to achieve the making of pattern welded Damascus steel.  In addition to pattern welded steel, he also perfected cable Damascus techniques.  Bagwell was influenced by early Bowie knife designs and was keenly interested in knife fighting techniques.  He built his reputation not only on his knives, but also on his sheath making, which he believed was of integral importance to the knife itself.  He was also known for his writings in magazines such as Soldier of Fortune and Tactical Knives. He also authored a book: Bowies, Big Knives, and the Best of Battle Blades (2000). His knife combat techniques have even been taught as part of the Special Forces training at Ft. Bragg. Sadly, Bill passed away in early 2021.
This knife is one of Bill's Damascus Fighters.  The blade is 3/8" thick and the ricasso is marked "BAGWELL M.S. Damascus".  The guard may be nickel silver, and there is a thin ferrule separating the guard from the handle.  The handle is an unknown wood, that has been hand-jigged for enhanced grip and control.  It is pinned with a number of pins of two different sizes.  They are strategically placed on the un-jigged portions, including the "faux" butt cap.  The frog button leather belt sheath was also made by Bill. It is a bit rough and has a ding, only visible on the back side.  The knife is previously owned and in excellent condition.  I only found one (1) small carbon spot on the Damascus.  The handle is perfect.  There's a bit of light patina on the guard.
Bill's knives are becoming increasingly difficult to find since his passing.  They reside in collections, and few are willing to part with them.  This is a rare opportunity to own a piece of knifemaking history from a legendary Mastersmith.
Condition: Previously owned. Excellent
                   Never used, carried or sharpened
Overall Length:      14 1/4"

Blade Length:         9 3/4"

Handle Length:       4 1/2"
Weight:                    1 lb 1.1 oz (without the 3.0 oz sheath)