Bill Burke, MS, Bowie, 2015 ICCE Moran Memorial Damascus Award (SOLD)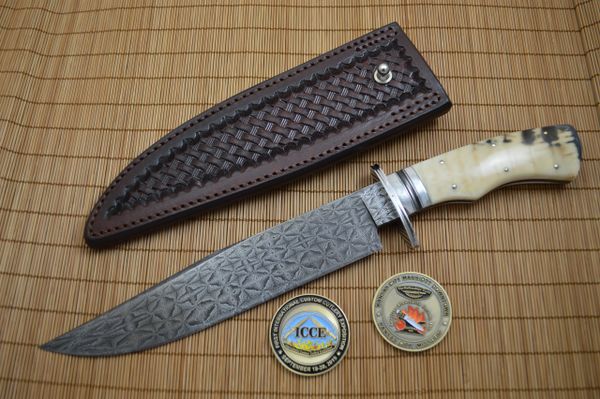 Bill Burke, MS, Bowie, 2015 ICCE Moran Memorial Damascus Award (SOLD)
Direct from the 2015 ICCE (International Custom Cutlery Exposition) in Kansas City, MO is an absolutely stunning Bowie from Master Smith Bill Burke, that won him the Bill Moran Memorial Damascus Award at this year's show.  This award is particularly special for Bill and this knife.  The show was held in the very same showroom as the one where Blade Magazine Cutlery Hall-of-Fame member Bill Moran introduced his revolutionary Damascus knives at the 1973 Knifemakers' Guild Show.  So in honor of that monumental event, the ICCE presented a special Bill Moran Memorial Damascus Award - and Bill and this knife were honored with that award.  Windy City Knives is honored and pleased to have it available here on our site.
This knife has a fossilized natural material handle, with a Mosaic Damascus blade forged from 1080 and 15N20 steels.  There are a couple of minor checks in the handle on the top and bottom (pictured), that Bill assured me were stable, normal, and nothing of concern.  The fittings are 416 stainless, and Damascus.  The nickel silver pins are anodized gold, there is a single gold pin flush mounted on either side of the guard, and there are fine gold file-worked liners around the entire handle on either side of the tang.  The grinds on the blade are impeccable.  Bill's overall fit and finish is second to none.  It feels perfectly balanced in-hand.
Kenny Rowe made the frog button, basket weave pattern leather sheath with belt loop.  And as always, Kenny's work is perfect - it fits like a glove.  And I will include one (1) of the pictured Challenge Coins with the knife.  These were made to commemorate the First Annual ICCE, and were sold at the show for $20 each.  This is a great package - one that will surely be the focal point of any collection, and an heirloom knife for generations.  And in case you are wondering, the award itself belongs to Bill.

Condition:  New from Maker. MINT
Overall length:  13 1/4"
Blade length:      8 1/4"