Bill Kennedy Sambar Stag Handled Fixed Blade Hunter (SOLD)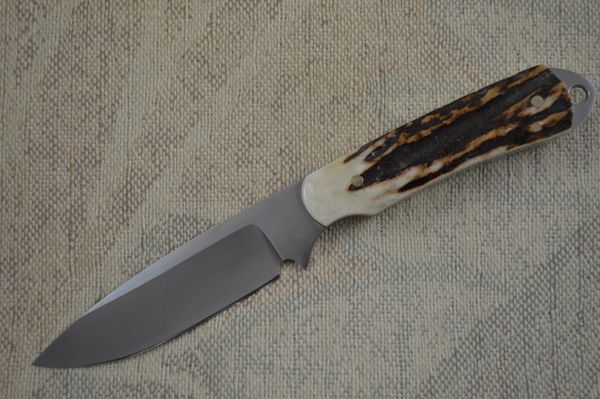 Bill Kennedy Sambar Stag Handled Fixed Blade Hunter (SOLD)
This fixed blade hunting knife from Bill Kennedy is in absolutely perfect condition. It is near mint, without any signs of use or storage. As with all of Bill's knives, he marks the ricasso with "Kennedy" and the year it was made. In this case, the knife is marked "1994". Pretty amazing that after 20 years it looks as good as new. The handle is 2 pieces of beautifully matched Sambar Stag, each pinned with brass pins. A finger choil for control and to prevent slippage, and a thong hole at the back of the tang protruding from the stag for your favorite lanyard. I cannot say for sure what the blade steel is. Bill uses D-2 for hunters, but has also used ATS-34, 154CM, CPM154, BG-42 in the past. Bill has also added red liners in the handle, and done some very tasteful filework along the back of the blade in the handle. There is no sheath. It will be shipped in a padded zippered case.

Condition: Previously owned. Mint.
Never used, carried, or sharpened
Overall length: 7 1/4"

Blade length: 3 1/2"