Bill Ruple 2-Blade BARLOW, Crosscut Amber Burnt Bone Scales (SOLD)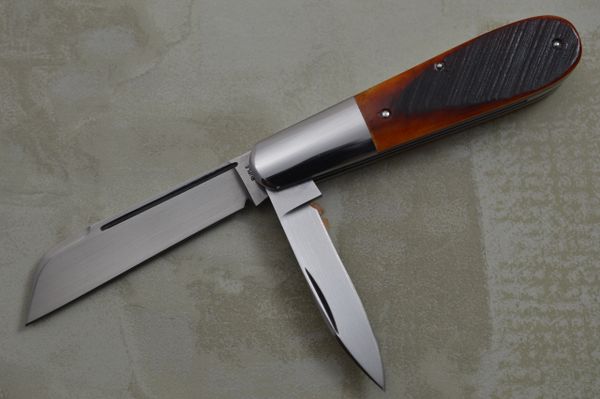 Bill Ruple 2-Blade BARLOW, Crosscut Amber Burnt Bone Scales (SOLD)
Bill Ruple is a master at making slip joint folders.  He has taught and inspired so many knifemakers on how to make folding knives, that it's almost impossible to list them.  You have to hold one of Bill's knives to truly appreciate the fit and finish, and his attention to detail.  He has been making knives since 1988.  The quality of his knives has been consistent throughout his career.  He has made knives with from one to five blades.  No matter what he makes or what show he attends, he always sells out - and quickly!
This 2-blade Barlow is a classic slip-joint knife pattern.  Both blades are CPM-154 stainless steel.  The primary blade is a Sheepsfoot grind, and the secondary blade is a Pen blade grind.  Bill is known for his outstanding fit and finish and walk and talk, and they are all front and center on this knife.  His tolerances are tight, and the knife is perfectly executed.  The bolster, liners, pins and backspring are all 416 stainless steel.  The handle scales are two beautiful pieces of amber crosscut burnt bone, well-matched, with nice color and grains.  Both blades lock up tight with no play, and the seating of each blade is spot-on center.  The Sheepsfoot blade features a long pull, and the Pen blade has a nail nick.  Both have comfortable and firm, yet easy pulls.  The knife is previously owned and in near mint condition.  If you hunt for it, there are a some fine wispy handling marks on the bolster.  Comes in a padded Ruple padded, zippered case.
Condition:  Previously owned. Near mint
                    Never used, carried or sharpened
Sheepsfoot Blade length:    2 5/8"

Pen Blade length:                2 1/8"
Closed length:                      3 1/2"