Bill Ruple 3-Blade Sowbelly, Fossil Scales (SOLD)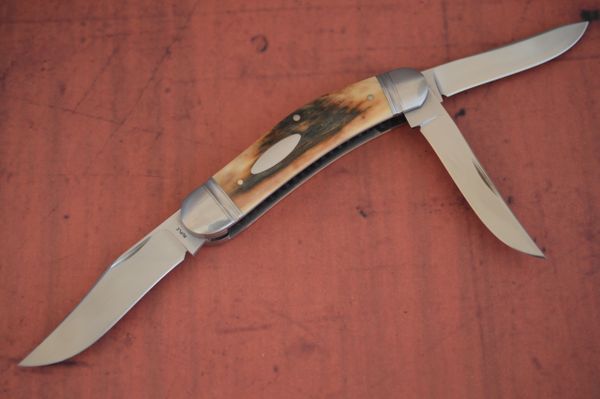 Bill Ruple 3-Blade Sowbelly, Fossil Scales (SOLD)
Bill Ruple is a master at making slip joint folders.  He has taught and inspired so many knifemakers on how to make folding knives, that it's almost impossible to list them.  You have to hold one of Bill's knives to truly appreciate the fit and finish, and his attention to detail.  He has been making knives since 1988.  The quality of his knives has been consistent throughout his career.  He has made knives with from one to six blades.  No matter what he makes or what show he attends, he always sells out - and quickly!
The three (3) blade Sowbelly is a challenging knife to build.  This Sowbelly features a main Clip Point blade, a Straight Back blade with a slight trailing point, and a Straight Back blade with a slight drop point.  The tolerances and fit and finish must be spot-on.  
All the blades are CPM-154 stainless steel, and they all have half-stops.  The front and rear bolsters are 416 stainless steel, as are the pins, liners, and oval-shaped shield.  The scales are two gorgeous pieces of well-mated ancient fossilized material.  All the blades lock up tight with no play, and the blade seating of each is spot-on.  Nice comfortable nail nicks all the way around, with firm, smooth pulls.  This knife was previously owned from a one-owner collection, and has just had a "once-over" by Bill at his shop.  It is in excellent, unused condition.  Bill is the master of "walk-and-talk", or the "Maestro", as the SlipJoint Cartel affectionately calls him.  Comes in a RUPLE padded, zippered case.

Condition:  Previously owned. Excellent
                    Never used, carried or sharpened
Blade length (main - clip point):    2 3/4"

Blade length (trailing point):          2 5/8"
Blade length (drop point):              2 1/2"
Closed length:                               3 3/4"