Bill Ruple Jigged Bone Bird & Trout, Slip-Joint Folding Knife (SOLD)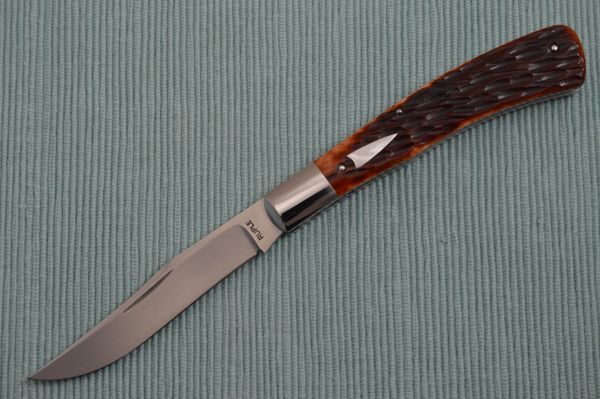 Bill Ruple Jigged Bone Bird & Trout, Slip-Joint Folding Knife (SOLD)
Bill Ruple is a master at making slip joint folders.  He has taught and inspired so many knifemakers on how to make folding knives, that it's almost impossible to list them.  You have to hold one of Bill's knives to truly appreciate the fit and finish, and his attention to detail.  He has been making knives since 1988.  The quality of his knives has been consistent throughout his career.  No matter what show he attends, he always sells out - and quickly!

This slip-joint Bird & Trout folding knife features a CPM 154 stainless steel blade with a mild recurve profile.  The blade has a hand-rubbed satin finish, false top edge, ample nail nick, and a half stop.  The scales are reddish brown jigged bone, and there is a 416 SS arrowhead shield on the presentation side.  The liners are integral to the bolster (more time consuming to build, and no seams), both being 416 stainless steel.  Bill has done some very fine and perfectly executed file-work along the top of the liners.  The backspring and pins are also 416 stainless.  The blade locks up tight with no play, and the blade seating is perfect.  Great walk-and-talk from the master!  The knife is previously owned, and looks like it just came from Bill's shop.  Comes in a padded case.

Condition:  Previously owned.  Mint.
                    Never used, carried or sharpened

Overall length:  7 1/2"

Blade length:    3 1/4"

Closed length:  4 1/4"