Bill Ruple Stag Saddlehorn Two Blade Trapper, Devin Thomas Damascus (SOLD)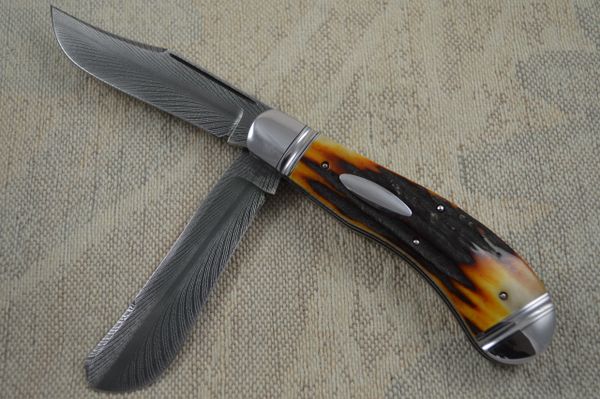 Bill Ruple Stag Saddlehorn Two Blade Trapper, Devin Thomas Damascus (SOLD)
Bill Ruple is a master at making slip joint folders. He has taught and inspired so many knifemakers on how to make folding knives, that it's almost impossible to list them. You have to hold one of Bill's knives to truly appreciate the fit and finish, and his attention to detail. He has been making knives since 1988. The quality of his knives has been consistent throughout his career. He has made knives with from one to five blades. No matter what he makes or what show he attends, he always sells out - and quickly!
This large two blade Stag Saddlehorn Trapper was acquired directly from Bill at the 2015 Blade Show.
Bill won both the Best Folder and the Hugh Bartrug Best of Show Custom Knife Awards at this year's Blade Show
. It features a clip point blade and a spey blade, both of Devin Thomas Feather Stainless Damascus. Bill told me that in order to get the center pattern of the feather, he has to cut away a good portion of the outer part of the steel bar. It is a costly process and time consuming - but as you can see - well worth it! Both blades have half stops. The clip point has a large straight nail nick, and the spey blade has a smaller curved nail nick. The front and rear bolsters are 416 stainless steel, as is the liners. Absolutely impeccable file-work highlights the entire back-spacer. There is an inlaid blank large oval shield ready for engraving. Both blades lock up tight with no play, and the blade seating of each is dead center in their respective liners. The fit and finish on his knives are second to none. One of Bill's best! This one will come with the genuine stingray zippered pouch that Bill provided.
Condition:
New from Maker. MINT
Overall length: 7 3/4"

Blade length: 3 3/8" (both the trapper and spey blades)

Closed length: 4 3/8"