Bill Wolf Lock Back Gentleman's Folder (SOLD)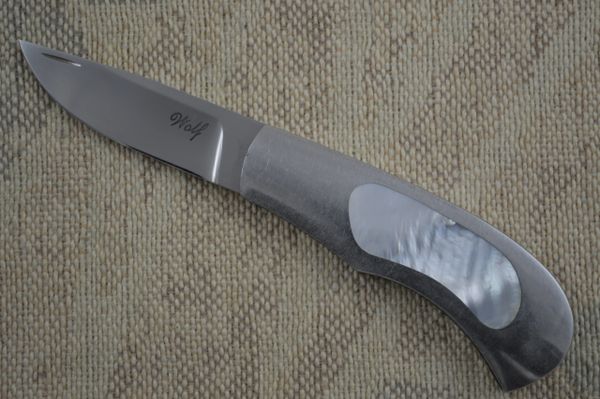 Bill Wolf Lock Back Gentleman's Folder (SOLD)
Bill Wolf crafts investment grade knives.  His love of working with metal stems from more than two decades of expertise in the automotive body repair field.  Wolf Custom Knives are quality crafted precision cutlery.  Bill's knives are rare, and hard to come by.  Collectors do not readily part with them.  They are heirloom quality.

This small gentleman's lock back folder features a stainless steel frame with beautiful Mother of Pearl inlays on both sides.  The blade is ATS-34.  The backspacer with lock bar is also stainless steel.  The knife opens with a nail nick on the front of the blade.  Bill's fit and finish is outstanding.  When opened, you can barely see the seam between the blade and backspacer.  The knife is smooth to open, locks open with no blade play, and the blade falls centered in the frame when closed.

Condition:  Previously owned. Excellent.
                    Never carried, used, or sharpened.
Stainless steel of the frame has handling / storage marks, and there is a barely perceptible rub (only seen at an angle, and not seen in the pictures) on the blade near the nail nick.

Overall length:  5"

Blade length:    2 1/4"

Closed length:  3"