Billy Bob Sowell, M.S. "Carrigan Bowie", Coffin-Shaped Ebony Handle (SOLD)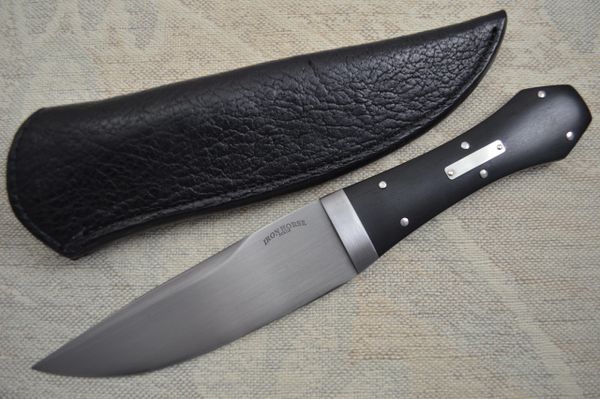 Billy Bob Sowell, M.S. "Carrigan Bowie", Coffin-Shaped Ebony Handle (SOLD)
According to the Historic Arkansas Museum, where the original Carrigan Bowie resides, "In 1853, Judge Thomas Hubbard gave this knife to Augustus Garland, his step-son upon Garland's entrance into the legal profession.  Garland treasured this gift, especially for the fact that the knife was made by James Black.  Both men knew Black, and knew that he made a knife for Jim Bowie. Garland called his knife a Bowie knife, assuming that only Black made "real" Bowie knives.  When serving as United States Attorney General under President Grover Cleveland, Garland monopolized an entire cabinet meeting exhibiting this knife and telling the story of Black and Bowie.  Garland passed the knife onto another statesman from Washington, Arkansas, United States Senator James K. Jones, whose grandson, Steve Carrigan, wrote a history of the knife for the statehood centennial edition of the Hope Star in 1936."
This reproduction of the Carrigan Bowie made by Billy Bob Sowell, has a guard-less coffin-shaped handle made from Ebony wood.  The blade was forged from what is most likely hand rubbed, satin finished 1050 steel, and the fittings are 416 stainless.  The blade is stamped "Iron Horse Forge", and is in excellent condition.  Under magnification, you can see a couple of tiny spots on the blade.  The knife is on consignment from the collection of another world renown Mastersmith.  He acquired it directly from Billy Bob, and it has been in his collection since.  Being a Mastersmith himself, the knife was well cared for, and stored properly.  This Mastersmith is "thinning" out his collection, and Windy City Knives is honored to have been appointed as his chosen purveyor.
There is a leather sheath that comes with the knife.  I am not sure if it is original to the knife.  It looks to be covered in sharkskin.  For those of you who collect Billy Bob's knives or reproductions of historical knives, this is a great piece to add to your collection. 
Condition: 
  Previously owned. Excellent Condition
                     Never used, carried, or sharpened
Overall length:   10"
Blade length:      5 1/2"

Handle length:    4 1/2"