Billy Bob Sowell M.S. Miniature Coffin Handle Bowie, Alligator Billfold (SOLD)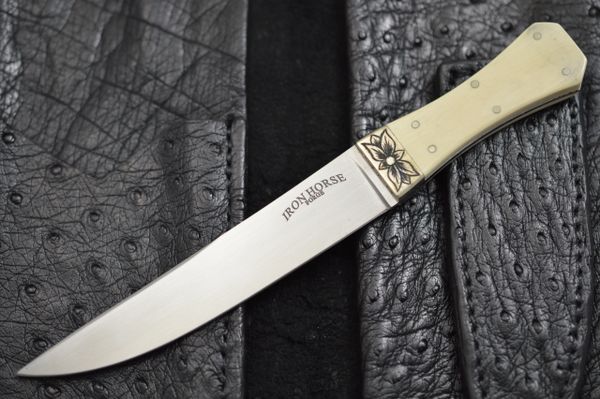 Billy Bob Sowell M.S. Miniature Coffin Handle Bowie, Alligator Billfold (SOLD)
Billy Bob Sowell recently appeared on Episode #1, Season 5 of Forged in Fire, "The Rhomphaia" - a close-combat bladed weapon dating back to as early as 400 BC.  At the end...Billy Bob won that episode's competition.
This clever miniature knife and billfold setup was made by Billy Bob Sowell M.S.  I am not certain whether he was a Journeyman Smith or a Mastersmith at the time.  Either way, it is definitely M.S. quality workmanship.  Billy Bob has made a miniature coffin handle Bowie designed to be carried in the "sheath" inside the billfold.  What a creative way to carry a small, fixed blade knife along with your credit cards, driver's license, paper money, etc. when you are dressed and out on the town.  It is perfect for your inside coat pocket or vest.  The blade was forged from what is most likely 1050 carbon steel, hand rubbed with a satin finish.  The guard is nickel silver, and Billy Bob has dressed up the knife a bit more with some floral engraving on both sides.  The handle appears to be made of "African Goat Horn", and the tang is tapered.  The blade is stamped "Iron Horse Forge" on one side of the blade.  The billfold which also serves as the sheath is made of alligator.  The knife comes from the original one owner collection.  It is in mint condition, having never been used or carried, and properly stored.

There is no storage case. The bills are shown for demonstration purposes only.  They are not included with the knife and billfold.
Condition: 
  Previously owned. Mint Condition
                     Never used, carried, or sharpened
Overall length:   6"
Blade length:      3 3/4"

Handle length:    2 1/4"
Billfold:               7" x 3 1/2" (folded)
                                      7" x 7" (opened)