Bob Loveless Stag Semi Skinner Knife #966, Riverside Calif., Leather Sheath (SOLD)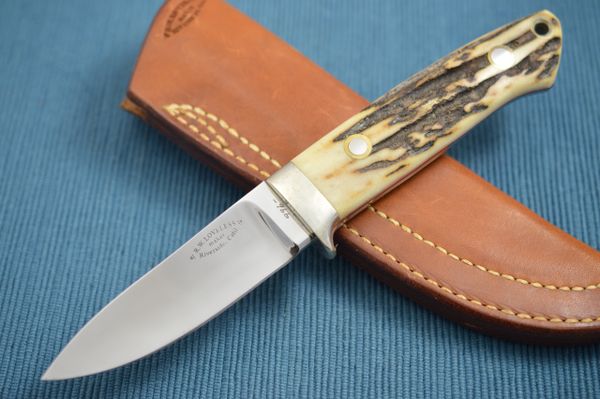 Bob Loveless Stag Semi Skinner Knife #966, Riverside Calif., Leather Sheath (SOLD)
Bob Loveless Semi Skinner, serial number 966 as marked on the front side of the ricasso, as well as handwritten on the backside of the leather sheath.  Stamped "R.W. Loveless Maker Riverside, Calif." on the front side of the blade, as well as on the front of the sheath near the top.  The knife and sheath are in near mint condition.  Calling it "near" because it was previously owned.  There is a bit of patina / rubs on the bolster from the sheath, which can easily be buffed or polished out.  That'll be left to the new owner, should they choose.  And the leather sheath has a few minor scuffs / marks from handling.  A really nice, clean example.  The knife features a nickel silver single-finger guard, nickel silver pins with brass outer rings, and two nicely matched stag scales with maroon liners.  Full tapered tang, which Bob was known for, and popularized.  There is a countersunk, nickel silver lined lanyard hole.
(NOTE:  Credit card billing address and shipping address must be the same.  No P.O. Boxes.  PayPal address must be "confirmed".  No exceptions.)
Condition: 
Previously owned, Near mint condition
                    Never used, carried, or sharpened
Overall length:      8 1/8"

Blade length:        3 5/8"
Handle length:      4 1/2"