Bob Lum Stag Handle Liner Lock Folder (SOLD)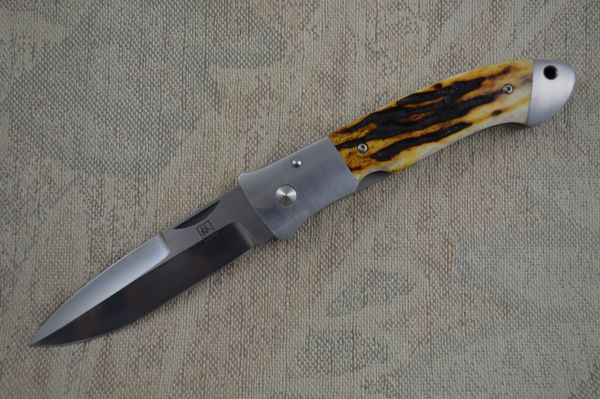 Bob Lum Stag Handle Liner Lock Folder (SOLD)
From Bob Lum's website...
"Knifemaker and designer Bob Lum passed away on December 4, 2007 at age 64. As the artist and maker that began the 'tanto' style knife from antique versions from Japan, he will be remembered as a considerate, kind and wonderful friend in the knifemaking world, besides being an excellent craftsman and designer."

For those of you who had the opportunity to have met Bob in-person, consider yourselves fortunate. Bob was a classic, and is deeply missed by the knife community.

This liner lock folder with double bolsters and stag handle is the epitome of Bob's attention to detail. The nail nick pulls effortlessly, the blade locks up solid as a rock, and falls dead center when closed.

Condition: Previously owned. Mint.
Never used, carried, or sharpened.
Overall length: 9 1/4"

Blade length: 4"

Closed length: 5 1/4"