Bobby House Copper Fat Carbon BARLOW, Slip-Joint Folding Knife (SOLD)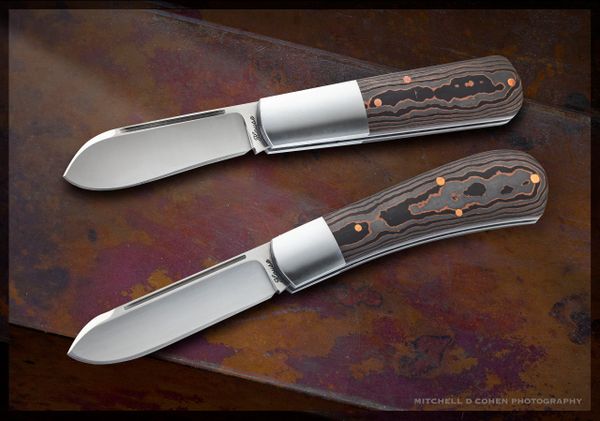 Bobby House Copper Fat Carbon BARLOW, Slip-Joint Folding Knife (SOLD)
Bobby House is a relatively new, part-time slip-joint knifemaker from Pleasanton, TX.  If the city in Texas doesn't ring a bell, it is where the Maestro, Bill Ruple also lives.  Bobby is a student of Bill's, or as I like to refer to the many who Bill has mentored, a "Ruple Pupil".  Bobby is a member of the South Texas Slip-Joint Cartel.  He has learned well and is definitely "one to watch".  His attention to detail and his fit-and-finish is that of a much more seasoned maker.  This knife is Brand New and direct from Bobby's table at Blade Show 2022.
Please note...This posting is to purchase the Barlow ONLY (top knife).  The Fat Carbon Zulu (pictured below the Barlow) is also currently available on the website (B. House Zulu).  Although not designed as a set, Bobby made the Barlow believing it would pair nicely with the Zulu, since both have the same Copper Fat Carbon scales.  Use our Contact page or email us, if interested in a price to purchase both knives.  The lead photo is credited to Mitchell D Cohen, Prairie Digital Photography, Northbrook, Illinois.  

This slip-joint "Fat Barlow" folding knife features a hand-rubbed CPM-154 stainless steel blade, 416 stainless steel bolster and pins, and 410 stainless steel liners that have been jeweled and relieved.  The scales are copper fat carbon.  The blade features a half-stop, locks up tight with no blade play, and the blade seating is centered.  Nice long nail pull, that is both firm and smooth.  An awesome piece of work from the student of the master!  Comes in a "B. House Customs" padded, zippered case, with signed COA. 

Condition:  New from the Maker
Overall length:  6 1/8"

Blade length:    2 5/8"

Closed length:  3 1/2"