Brad Southard Performance Series Mini TOLK Frame-Lock Flipper, Copper Backspacer and Pivot Ring (SOLD)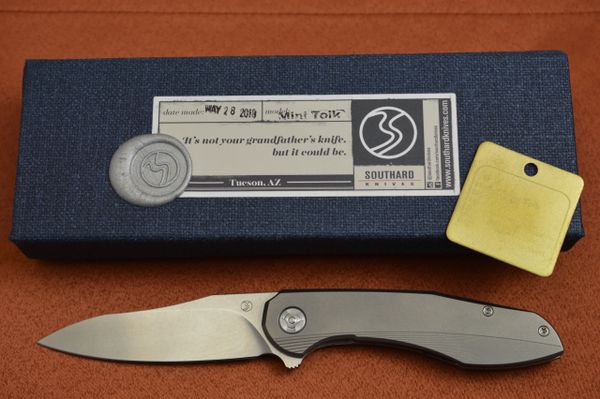 Brad Southard Performance Series Mini TOLK Frame-Lock Flipper, Copper Backspacer and Pivot Ring (SOLD)
From Brad's website..."Smooth lines, and comfort in hand defined the Southard Performance Series Tolk and those strengths follow into the new Southard Performance Series Mini Tolk.  The smaller form, and weight make it the perfect EDC knife.  The  3.28″ blade is able to handle all the tasks you need to get done everyday, but without the extra size and weight that fills your pockets, and makes you snug your belt up extra tight just to hold your pants up.
Here is where I would normally tell you about the materials and good things about the knife, and I will do that a bit below… but its going to be a shorter section than normal, because you get to pick how you want your Mini Tolk built.  You pick your blade steel, handle finish, inlay material, or handle style, as well as backspacer material, with pivot ring to match.
Let me give you the basic's:
Blade steel - The default steel is Latrobe 20Cv.  Most often refereed to as simply 20cv.   Its a fantastic steel, and I know you wont be disappointed if that's the one you choose.  Heat, and cryogenic treated right here in my shop, to get the best performance possible from this steel.
In house custom made ceramic ball bearings.   Large diameter bearings, means tons of lateral support for that blade, so you will never have any blade play (assuming you have your knife adjusted properly) as well as wonderfully smooth action.  Polyoxymethylene bearing cages means not only do your balls stay where you want them, but also that moisture wont cause them to corrode.
3d Machined titanium pocket clip
Solid backspacer that snaps into place to keep the handles aligned and solidly lock them together.  As well as a pivot ring to match the backspacer.
Hardened Stainless steel lock insert, for long lock life, as well as easy repair-ability should you need it rebuilt in 30 yrs.  The Lock insert also has a build in over travel stop.  So you dont have to worry about over springing your lockbar when you get a little strong handed, or hand the knife to someone that doesnt know how a frame lock knife works, and they get little over eager.
Ceramic detent ball for the smoothest action possible, and longest life possible.  Course its always replaceable down the line should you ever wear it out.  Although I've never seen one wear out.
Titanium hardware.  Minus the pivot itself that's made from hardened stainless steel.
The Base model Mini Tolk comes with a stonewashed blade.  As well as custom cut checking on the spine and flipper tab.   Subtle, provides the extra traction you need, but without the extra harshness that you might get from some systems.
The titanium handles, and pocket clip have a shotpeen beadblast finish.  A wonderfully refined feel and look, has a bit up a luster without being reflective.  It also hides wear from use and carry better than nearly any other handle finishes often used on titanium.
Mini Tolk Specifications:
3.28" Blade length
7.46" over all length open
4.2″ closed
.115 thick blade
.39″ handle thickness at pivot.
2.78oz (will change based on options you choose)
Stonewashed 20cv blade steel (other options available)
Flat Ground blade
Carson Flipper
Internally lightened
Titanium frame lock
Hardened steel lock insert and overs travel stop
Copper or Brass backspacer and pivot ring standard.  Other options available
Titanium clip (same clip design as Avo, so your Steel Flame clips will as well!)
Titanium Hardware
Custom Ceramic Ball bearing pivot and ceramic detent ball for the smoothest, and fastest action"
This Mini Tolk has a copper pivot ring and copper backspacer.  It comes in original Southard presentation box with metal COA dog tag.  It flips effortlessly, has an excellent detent, perfect blade seating, rock solid lock-up, and no lock stick.
Condition:  Previously owned.  Excellent - Near Mint
                   Never used, carried or sharpened