Brian Tighe Original Custom "Tighe Tac" Liner Lock, Chisel Ground 4.25" Blade (SOLD)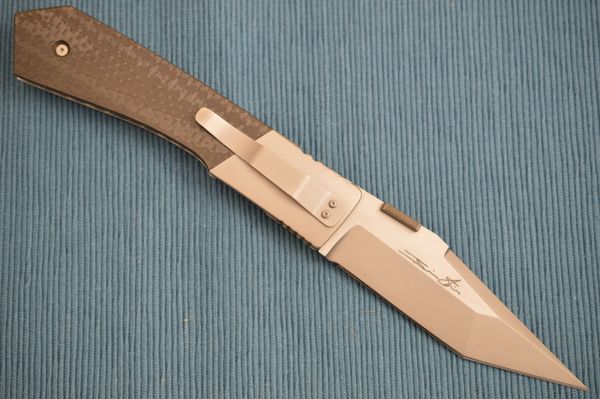 Brian Tighe Original Custom "Tighe Tac" Liner Lock, Chisel Ground 4.25" Blade (SOLD)
Brian Tighe hails from St. Catharines, Ontario, Canada, and produces unique, functional and visually appealing knives of the highest quality. His blades are the product of more than 25 years of experience, and the combination of metallurgy artistry and tactical expertise. Each blade is not only one-of-a-kind in style, but features original locks and designs for unparalleled functionality. Brian's knives have been featured in hardcover books, magazines, and trade shows, winning "Most Innovative Design" at the 2010 and 2012 Blade Show. He specializes in pocket knives and folding knives with custom locks and steel designs. Through the process of creating specialized Damasteel, stainless Damascus steel, each blade carries unique, detailed patterns. Brian Tighe's knives are truly "Art with an Edge". Not to mention the fact that we love how he names each model he creates!

This is a very early, original, custom "Tighe Tac One" liner-lock folding knife, verses the more recently released "Tighe Tac Two". Brian told me that this knife was built approximately 25 - 28 years ago. It was the knife that was the basis for his wildly popular Columbia River Knife and Tool (CRKT) 8102 Tighe Tac production model, released in the early 2000's. Brian also told me that back when he first made the Tighe Tac, most had a 4" blade. This knife has the more rare 4.25" blade, of which very few were made. In fact, we haven't seen a vintage, custom Tighe Tac for sale anywhere, in a very long time. This, is a little piece of Brian Tighe history, a must-have for collectors. Brian did not recall the blade steel, but thought it could be BG 42 stainless. It is lightly blasted, with a wicked chisel ground, needle point Tanto grind. The edge on this thing is sick! The handle scales are Carbon Fiber with a micarta backspacer, the bolster is blasted titanium, and the liners have been "jeweled". There's jimping on the top and bottom of the bolster, for enhanced feel and control. There is also jimping or filing done on the liner release and rectangular thumb stud, as well. The blade opens and closes as smooth as silk, and locks up vault tight with an easy lock release. And the blade sits between the liners exactly where a chisel grind should be. Brian signed the blade on the ground side. The knife is previously owned, and in near mint condition. The only reason it is not mint, is that there are the two tiny faint spots on the blade, and one tiny rub on the arch of the pocket clip. These have been called out in the photos, because otherwise they would be missed. Comes in a padded, zippered case.
Condition:
Previously owned. Near mint.
Never used or sharpened
Overall length: 10"

Blade length: 4 1/4"

Closed length: 5 3/4"