Brian Tighe TKI 2016 "Tighe Fighter" San Mai Beta C Titanium Core Blade, Timascus Scales (SOLD)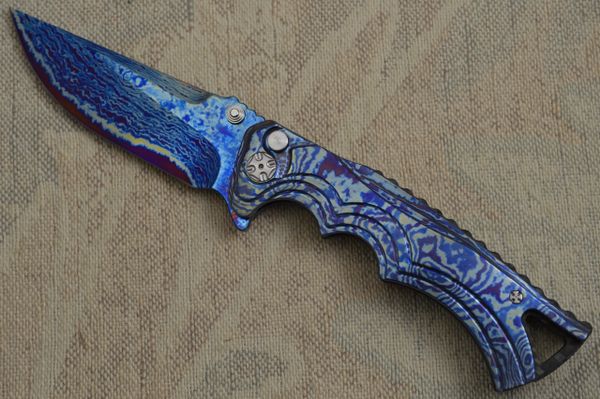 Brian Tighe TKI 2016 "Tighe Fighter" San Mai Beta C Titanium Core Blade, Timascus Scales (SOLD)
Brian Tighe hails from St. Catharines, Ontario, Canada, and produces unique, functional and visually appealing knives of the highest quality.  His blades are the product of 25 years of experience and the combination of metallurgy artistry and tactical expertise.  Each blade is not only one-of-a-kind in style, but features original locks and designs for unparalleled functionality.  Brian's knives have been featured in hardcover books, magazines, and trade shows, winning "Most Innovative Design" at the 2010 and 2012 Blade Show.  He specializes in pocket knives and folding knives with custom locks and steel designs.  Through the process of creating specialized Damasteel, stainless Damascus steel, each blade carries unique, detailed patterns.  Brian Tighe's knives are truly "Art with an Edge".  Not to mention the fact that we love how he names each model he creates!

This is Brian's "Tighe Fighter", button-lock flipper from TKI 2016.  It features a San Mai blade with a Beta "C" Titanium core and Timascus scales.  Beta Titanium is the hardest titanium, although not as hard as steel.  It is commonly used in dive knives.  The handle scales are Timascus.  Beautifully carved pivot pin, double sided thumbstuds, carbon fiber back-spacer, and "Y" shaped pocket clip set for tip-up carry, all add to the uniqueness of this work of art.  The back-spacer is cleverly used for a triangular shaped lanyard hole opening.  The flipper runs on STBS bearings, and is silky smooth.  Excellent detent, rock solid lock-up, and centered blade seating.  Brian signed the pocket clip.  It will come in a padded, zippered pouch.  This one has it all.  The depth of the colors is outstanding.
Condition:
  Previously owned. Mint condition.
                    Never used, carried or sharpened
Overall length:  9"

Blade length:    4"

Closed length:  5"