Butch Vallotton Damascus Liner Lock Folder (TRADED)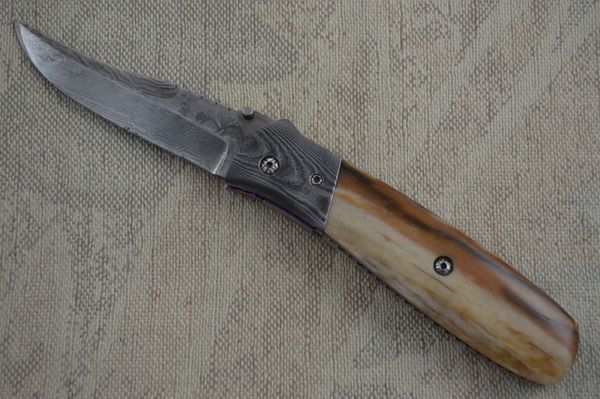 Butch Vallotton Damascus Liner Lock Folder (TRADED)
Butch Vallotton of Oakland, OR became a full-time knifemaker in 1984.  Although automatic knives are a major part of his business, Butch made some outstanding manual folders - as is the case with this artful, large piece.  The handle scales are fossilized natural material.  The blade is stainless Damascus, and the bolsters are mosaic Damascus.  The oversized clip is "jeweled" purple titanium.  The liners are file-worked purple titanium.  And the entire length of the backspacer is beautifully notched and file-worked.  Even the pivot screws and pins are file-worked.  The blade locks up tight with no play, with the help of a file-worked "tab" on the liner, which also makes it very easy to release the blade and close it effortlessly.  The knife is silky smooth throughout the entire range of motion.  This is a beefy folder weighing 5.8 ounces, and is an excellent example of Butch's work.
Condition:
  Previously owned.  Excellent.
                    Never used, carried, or sharpened.
Overall length:  8 1/2"

Blade length:    3 5/8"

Closed length:  4 7/8"