CAS Knives, San Mai Fighter (SOLD)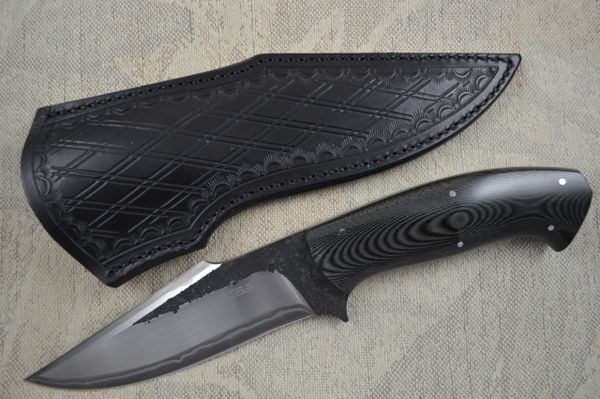 CAS Knives, San Mai Fighter (SOLD)
CAS Knives is two brothers who have been making handmade knives for a living since 2006. Claudio Alejandro Sobral (CAS) and Ariel Ricardo Sobral. Their shop is located in Villa Ballester, Buenos Aires province. They have been putting out some outstanding fixed blade knives. Their work is clean, with great lines and excellent fit and finish. Their knives are as functional as they are collectible.
This fighting knife features a San Mai 420 / 1095 blade with Hamon. The blade is sharpened along the spine approximately 4" from the tip. The guard is integral to the blade. The handle is nicely grained black micarta. This hefty beast weighs in at 11.5 ounces - perfectly balanced and feeling great in-hand. It comes with a CAS black tooled leather belt sheath.
This knife is in absolutely pristine condition. It is MINT, as though new from the makers.
Condition: Previously owned. MINT, As NEW
Never used, carried, or sharpened.

Overall length: 11"
Blade length: 6"