Charles F. Ochs III, M.S. LARGE Pattern Welded Damascus Bowie, Exotic Sheath (SOLD)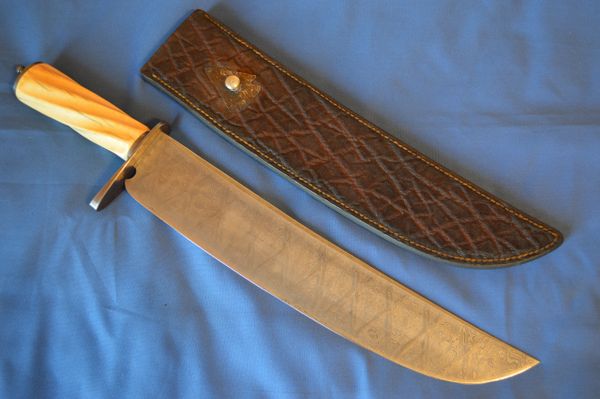 Charles F. Ochs III, M.S. LARGE Pattern Welded Damascus Bowie, Exotic Sheath (SOLD)
Charles Ochs of OX Forge Knives has been hand crafting knives since 1977.  Every blade that leaves his shop comes with a guarantee of complete customer satisfaction.  He is a full time bladesmith, and started marketing his first knives in 1978.  For plain carbon steel blades, his choice of steel is 52100, a high carbon bearing alloy with 1.5% chromium and 1.0% carbon.  When properly forged and heat treated, 52100 yields a blade with superb edge holding qualities, yet it can be re-sharpened quite easily.  In addition to blades forged in 52100, he also forges his own pattern welded Damascus steel, and has been doing so since 1984.  This ancient material offers its own unique properties and every blade is truly one of a kind.  Charles received his Mastersmith rating from the American Bladesmith Society in 1989.
This massive Bowie is more like a short sword or cutlass.  The blade is Charles' own pattern welded Damascus, beautifully executed in a "cross hatch" pattern.  The guard and butt cap with fancy sculpted pin are also done in Damascus.  The "fluted" handle is gorgeous - creamy fossilized material with natural checks, that has developed a beautiful yellow patina.  This is a solid piece of material, not two slabs and no pins.  The frog button sheath is made from an exotic leather, and the button is mounted on an arrowhead shaped inlay.  Please note that there is what appears to be a scratch on the face of the button.  It is
not
 a scratch - etched on the face of the button are the letters "OX".  Charles obviously made the sheath too.  This knife absolutely melts in the palm of your hand.  You can tell how well balanced it is as soon as you hold it.  The knife is on consignment from the collection of another world renown Mastersmith.  He acquired it directly from Charles, and it has been in his collection since.  Being a Mastersmith himself, the knife was well cared for, and stored properly.  The knife is in excellent, unused condition.  I dare say it is close to mint condition.  I cannot find anything of note on either the knife or the sheath.  This Mastersmith is "thinning" out his collection, and Windy City Knives is honored to have been appointed as his chosen purveyor.
If you like big knives, this one's for you.  It would be a great addition to any collection.  Charles' knives are well-respected among both makers and collectors.  His lead time for orders is running close to 2 years.  No case with this one.

Condition:  Previously owned, Mint Condition
                    Never used, carried, or sharpened
Overall length:      20"

Blade length:        14"
Handle length:      6" (incl. guard and butt cap)
Weight:                 1 lb, 8.5 oz (knife only)