Charles Ochs Special Ops Combat Bowie, Leather Sheath (SOLD)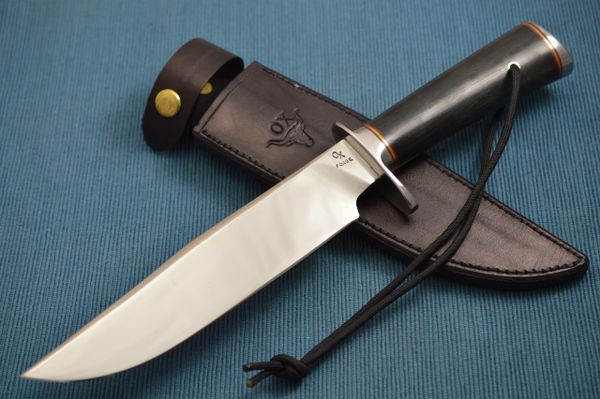 Charles Ochs Special Ops Combat Bowie, Leather Sheath (SOLD)
This Special Ops Bowie (S.O.B.) is the work of Charles Ochs III of OX Forge in Largo, Florida.  Charles Ochs has been making custom knives since 1973, and has been a full-time maker since 1986.  In 1998 he joined the Knifemakers Guild, and in 1989 he earned his Mastersmith rating in the American Bladesmith Society (ABS).  Charles' signature "OX Forge" maker's mark is well-known by collectors in the knife industry, worldwide.  His knives are known for their quality materials, attention to detail and performance.
This Special Ops Combat Bowie features a 52100 steel blade with a highly polished finish, false top edge and hidden tang.  The handle is Black Micarta, with red and brass spacers between the guard and the pommel.  I believe the guard and pommel are steel, but they could be nickel silver.  There is a lined lanyard hole with paracord.  The knife comes with a handmade leather belt sheath with retention strap, crafted by Charles.  I consider the knife to be in near mint condition.  Nothing of note, other than the fact that is was previously owned.  Even the sheath is in perfect condition.  It has never been used, carried or sharpened.  Also includes a padded zippered case.
Condition: Previously owned. Near Mint.
                   Never used, carried or sharpened
Overall Length:      12 1/2"

Blade Length:         7 1/2"

Handle Length:       5"