Chris Reeve 1989 U.S.A. Mark V #78, South Africa Leather Sheath, COA (SOLD)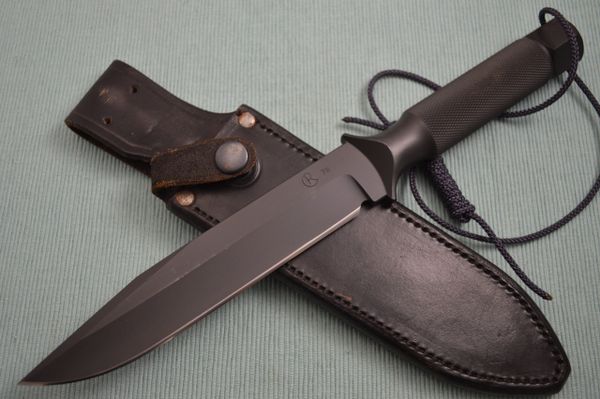 Chris Reeve 1989 U.S.A. Mark V #78, South Africa Leather Sheath, COA (SOLD)
The Chris Reeve Mark V was Made in U.S.A. in 1989.  The stamp on the knife indicates it is No. 78, the 78th Mark V made in the U.S.  The leather sheath, however, was Made in South Africa, as stamped on the back side.  When Chris Reeve Knives moved from South Africa to the United States, there were "leftover" sheaths from the South African operations that were included with the early knives made in the U.S.
This Mark V is crafted from one solid bar of steel.  The steel is A2, with a Rockwell hardness of 55 - 57.  The blade finish is baked on "Kalgard" grey-black coated for maximum rust resistance.  Kalgard was developed for, and used in, the Aerospace Industry.  The knife has no joints, no seams and no breaks.  The knife is virtually indestructible.  The removable butt cap reveals a hollow handle.  Here's where you can keep emergency or survival needs.  The cap is made of D65S Aerospace Aluminum.  And the cap is fitted with a neoprene "O" ring to ensure that the storage space is completely sealed from dust and moisture.  The knife is in excellent to near mint condition.  There is a bit of sheath wear, where the blade transitions from the grind to the flat.  The barrel knot of the lanyard will need to be redone.  It has never been used, carried or sharpened.  Comes with Chris Reeve Knives Reissued Birth Card dated March 9, 2020.

Condition: Previously owned. Near mint condition.
                   Never used, carried or sharpened
Overall Length:    12"

Blade Length:       7"

Handle Length:     5"