Chris Reeve "IMPINDA" Slip-Joint, Drop Point, 2018 Blade Show (SOLD)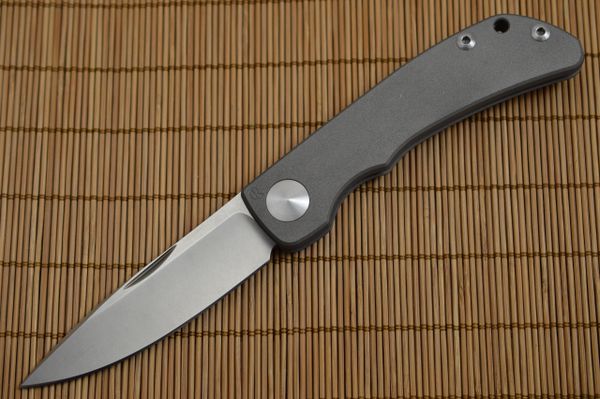 Chris Reeve "IMPINDA" Slip-Joint, Drop Point, 2018 Blade Show (SOLD)
This is Chris Reeve Knives' newest model, the Impinda (Zulu: Folding, Repeating), Tactical Trout Folder.  The knife was designed by William W. Harsey, and CRK describes the knife as an "exercise in mechanical innovation to the traditional slip joint folder".  It demonstrates originality of design and quality of execution and is not intended to be an example of ultimate strength.  This knife is a true slip-joint folding knife.  It is non-locking, without a half-stop.  As a slip-joint and non-locking knife, the most important part of the Impinda is the relationship between the blade and spring.  The Impinda manages pressure at every point of contact, using a differential spring pressure.  The balance creates a smoother opening, safer closing, and positive engagement in the fully-open position.
The Impinda features a stonewashed, drop point blade that has been hand sharpened, made from CPM S35VN stainless steel, and the handle is 6AL 4V titanium.  The backspring is also made from CPM S35VN.  It has a titanium pocket clip, set for tip-up carry.  It has an ample nail nick, with a firm, smooth pull.  The knife comes directly from Chris Reeve Knives at the 2018 Blade Show.  A limited release of only 50 pieces were at Blade.  We were told that the knife is scheduled for full release in about 6 months.  Can't wait to get one?
The knife is model IMP-1000.  It comes in the Chris Reeve box, with storage cloth, leather slip pouch, lubricating oil, tool, filler tab (should you wish to remove the pocket clip), and product folder.  The folder contains the story of the knife and care instructions, certificate of authenticity, Registration card, and decal.
Condition: New from the maker.
Overall Length:  7 3/8"

Blade Length:    3 1/8"

Closed Length:  4"