Chris Reeve Mnandi, Box Elder Burl Liner-Lock Folding Knife (SOLD)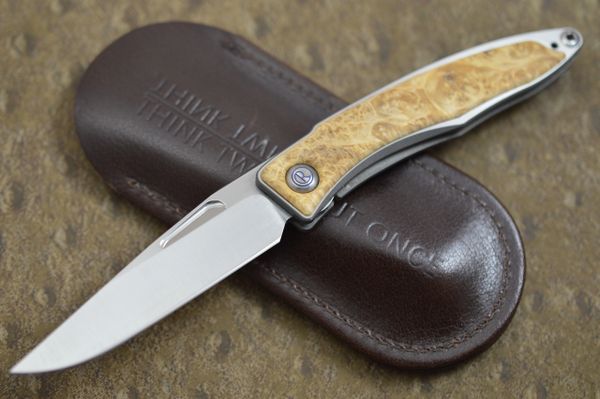 Chris Reeve Mnandi, Box Elder Burl Liner-Lock Folding Knife (SOLD)
The Chris Reeve Mnandi liner-lock folding knife is an elegant and functional gentleman's folder.  CRK has redefined the meaning of gent's folder, in his design, performance, construction, and materials of the knife.  The word Mnandi comes from the Zulu for "very nice".  This is the kind of knife that works both at home and out and about, without intimidating those you are with.  It's right at home in a gentleman's pocket, or a women's purse, pocket, etc.
The Mnandi features a polished, drop point blade made from CPM-S35VN stainless steel, with an enlarged thumbnail recess for easy opening.  The handle is bead blasted 6Al4V titanium, with inlaid Box Elder Burl scales.  The solid titanium pocket clip, is set for tip-up carry, and can be placed on either side of the handle.  Also features Chris' strong Integral Locking Mechanism, that Chris Reeve pioneered.  This knife is previously owned, and in excellent, like new condition.  Smooth opening, solid lock-up, centered blade and no lock stick.  Comes with a Chris Reeve Think Twice, Cut Once leather slip pouch.

Condition: Previously owned. Near mint condition.
                   Never used, carried or sharpened
Overall Length:  6 3/8"

Blade Length:    2 3/4"

Closed Length:  3 5/8"