Chris Taylor Jigged Desert Ironwood Nessmuk, Slip-Joint Folding Knife (SOLD)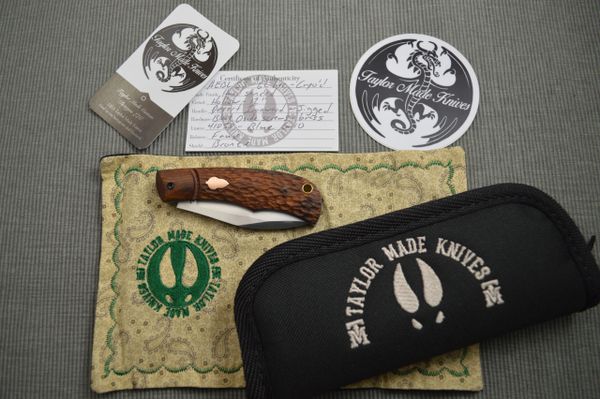 Chris Taylor Jigged Desert Ironwood Nessmuk, Slip-Joint Folding Knife (SOLD)
Chris Taylor is the creative and talented craftsman behind Taylor Made Knives in Northwest Arkansas.  Chris makes both folding and fixed blade knives.  You can find his knives featured and shared on both his Facebook and Instagram pages.  He has a loyal following on social media, and an extensive group of collectors.  His knives have become highly desirable to own.  His fit, finish, selection of materials, appearance and design, are all top shelf.  He is definitely a "one to watch" knifemaker.
This slip-joint folding knife is brand new from Chris' lottery at the 2021 KYCKS.  The Nessmuk profile blade is hand sanded, hollow ground, AEBL stainless steel, cryogenically treated, with a Rockwell hardness of 62 RC.  The handle is jigged Desert Ironwood with a faux bolster.  The screws are black oxide, and the Acorn Shield and lanyard tube are Bronze.  The liners are 410 stainless steel, the backspring is stainless steel, and there are Blue G10 spacers.  The blade has a half stop, locks up tight when opened and has good blade seating when closed.  Comes in a Taylor Made Knives padded, zippered storage case, along with a signed COA, business card, sticker and a small Taylor Made Knives Hank that Chris used on his table at the KYCKS to display the knife.
Condition:  New from the maker
Overall length:  6 1/4"

Blade length:    2 3/4"

Closed length:  3 1/2"