Chuck Gedraitis YAKUZA Liner Lock Folding Knife with Hamon, Gold Lip Pearl Scales, Timascus Bolster (SOLD)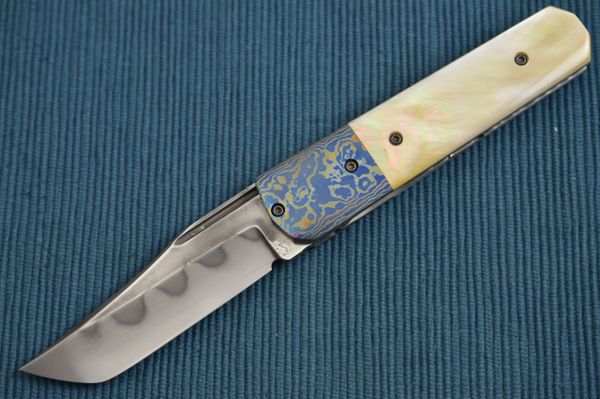 Chuck Gedraitis YAKUZA Liner Lock Folding Knife with Hamon, Gold Lip Pearl Scales, Timascus Bolster (SOLD)
From Chuck's website (Chuck Gedraitis Knives)..."Ever since I can remember I have had a fascination with knives.  My grandfather gave me my first pocketknife when I was 5, and it was that moment that did it.  I started making knives by taking apart my mothers kitchen knives.  My parents thought that there was something "wrong" with me because I had a fascination with sharp objects.  That all changed when I took them to a local knife show and showed them a whole room of people interested in knives.  I seriously began making knives when I was 16. I am now 36 years old and have been making knives for 20 years.  For the past 10 years I have mainly concentrated on making folding knives and automatics.  I mainly concentrate on making one-of-a-kind folding knives of my own design, but I do occasionally make a few fixed blades.  I was the winner of the best custom folder award at the 2004 Shenandoah Valley Knife show.  I was the winner of the best custom folder award at the 2007 Wolverine Knife show.  I specialize in unique filework patterns, and I also do simple carving and some of my own sheath work.  For steels I mostly use Damascus, but also use 154CM, CPM154, D-2, 1095, W-2 and others."
This is Chuck's small Yakuza folder.  This knife is brand new, direct from Chuck's shop.  Windy City Knives is privileged to be an authorized dealer for Chuck Gedraitis Knives.
The knife features a 1095 steel blade with Hamon, Timascus front bolster, gorgeous Gold Lip Pearl scales, Titanium liners and backspacer, and stainless steel hardware.  The knife opens with an elongated nail nick - smooth as butter!  Chuck has done an outstanding job in a small package - perfectly centered blade and solid lock-up.  This is a classy knife, well-suited for gent's or lady's carry.  It comes in a padded, zippered case.

Condition:  Brand New 
                  Direct from the maker
Overall length:   7"
Blade length:     3 1/8"
Closed length:   3 7/8"