Craig Camerer, J.S. "Slim Pickens" Damascus Bowie, Leather Sheath (SOLD)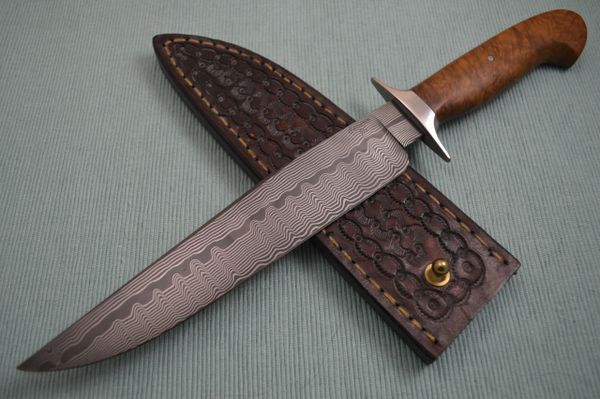 Craig Camerer, J.S. "Slim Pickens" Damascus Bowie, Leather Sheath (SOLD)
From Craig Camerer's website...
"My interest in knives began when I was a young boy.  I received a knife carved from a piece of drift wood by my father and the love of knives began.  When I was a kid I had an extensive collection of factory knives that my mother allowed me to own.  Believe it or not I was even allowed to carry them in my pockets to school and basically everywhere.  I was seldom without a knife and that trend carries on today.   As I got older, I got into custom knives.  Since I enjoy working with my hands, I tried to make some knives and while crude they did spark a passion in me.  At first I used stock removal for the knives but quickly realized I loved to forge. This all took place in 2000; by 2001 I had joined the ABS as an apprentice smith.  This year(2004) I tested for my journeyman smith status and got it.  I also became a member of the Professional Knifemakers Association and have attended that show since 2001.  I was recently voted secretary/treasurer of that organization so if you need any info on the PKA just let me know.
I have been blessed with a lovely wife who puts up with my addiction to knife making and a wonderful son, who feels a duty to check out each piece I make for his approval.  I attended Robert Morris College and received a Bachelors Degree in Business and eventually I went back to school at University of Illinois Springfield campus and received my Masters degree. 
My favorite types of knives are Bowie knives, both large and small.  However, I do build almost every other type of knife.  Lately I have been making a lot of karambits.  I build knives based upon my designs, historical pieces and will also work to a customers designs."

Craig Camerer also appeared on Episode #1, Season 2 (2016) of Forged in Fire, "The War Hammer".  Craig won that episode's competition.
This Slim Pickens Damascus Bowie was made by Craig Camerer around 2013.  Craig is a Journeyman Smith in the American Bladesmith Society (ABS).  The blade is forged from 1084 and 15N20 steels in a horizontal pattern.  The guard and pins are stainless steel.  Craig marked the knife "Camerer JS".  The knife's handle is made from a solid piece of Amboyna Burl wood, of mortise construction with a hidden tang.  The knife comes from the original owner.  It is in mint condition, having never been used or carried, and properly stored.

There is a leather frog button with tooling, that was also made by Craig.  No case.  This is a very light, quick in the hand Bowie knife. 
Condition: 
  Previously owned. Mint Condition
                     Never used, carried, or sharpened
Overall length:   13 1/8"
Blade length:      8 1/8"

Handle length:    5"
Weight:               7.1 ounces