Crusader Forge APEX Drop Point Frame-Lock Flipper, 3D Finish (SOLD)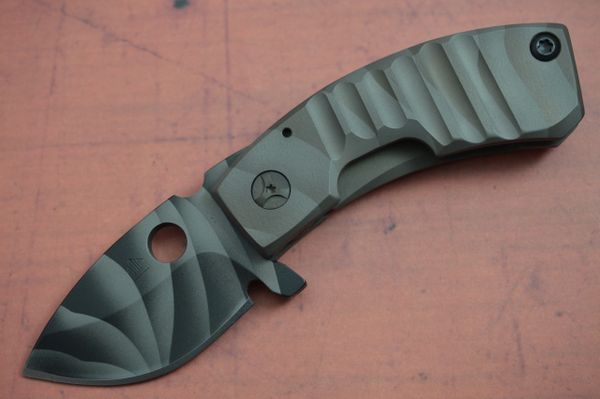 Crusader Forge APEX Drop Point Frame-Lock Flipper, 3D Finish (SOLD)
This is one of Crusader Forge's signature knives, the APEX.  Crusader Forge Custom Knives are designed for extreme and hard use. All Crusader Forge knives are 100% custom handcrafted by master bladesmith and designer, Maciej Szczerbiak.  They are 100% made in U.S.A. from domestic steel and materials.  His blade material is Triple Tempered CPM S30V Stainless Steel with an HRC of 59-60.  Each Crusader Forge knife handle is custom fabricated.   They are custom textured to ensure positive hold, regardless of your grip configuration.  The handles are fastened to the knife using Stainless Steel Fasteners with Torx™ T25 drive for maximum strength.  Each knife design is prototyped and function tested against various materials such as wood, rope, muscle, bone, sheet metal and anything else Maciej may have left in the shop that has reached the end of its useful life.  Edge holding characteristics, transverse toughness and cutting ability are all evaluated prior to finalizing a knife design.
This APEX is one of the rare flipper versions, and features a CPM S30V drop point blade with round thumb hole, and a sculpted, full titanium handle frame.  The blade can be deployed using the thumb hole, or with the flipper tab and flick of your wrist.  The blade, frame, and tip-up mounted pocket clip have all been done in Maciej's signature 3D finish.  The frame and pocket clip's 3D finish is more subtle than the blade.  The frame-lock holds the blade open rock solid - no movement whatsoever.  The blade is perfectly centered in the handle when closed.  The knife comes in a pouch, with the original Certificate of Authenticity signed by Maciej.
Condition:  Previously owned.  Excellent to near mint.
                  Never used, carried or sharpened.
• Overall length:  8 1/4"
• Blade length:    3 1/4"
• Closed length:  5"