Daniel Winkler, M.S. Native American Belt Knife, Karen Shook Rawhide Sheath (SOLD)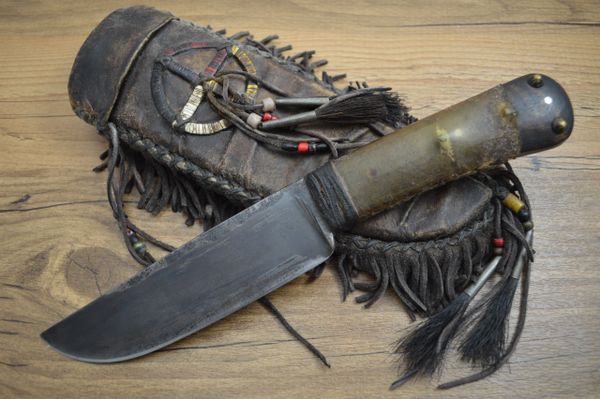 Daniel Winkler, M.S. Native American Belt Knife, Karen Shook Rawhide Sheath (SOLD)
This Native American Style Belt Knife was handcrafted by Mastersmith Daniel Winkler, in the early 2000's.  Dan built this knife in the tradition of bladesmiths long ago.  It was created to be a reminder of an era past, as well as an implement of uncompromising performance.  His maker's mark, visible on the spine of the blade, is his mark of commitment to excellence in workmanship.  These early forged blades from Dan are becoming scarcer and harder to find in the secondary market.  Most of what you see from Dan these days are his Winkler II stock removal knives and axes.  This one has been in a private collection since new.
It features a forged blade of 1095 carbon steel, that has been kept religiously coated in oil throughout its lifetime.  The handle material is Maple, with a Rawhide cover.  Dan has included brass studs on the handle, hidden under the rawhide, as well as a couple that are exposed.  They give the knife a positive tactile feel in hand.  The sheath was designed and hand stitched by Karen Shook, utilizing many techniques and materials authentic to earlier times.  It is also make of Rawhide, and has a Quilled Wheel, as well as a fringe around the edge and long beaded leather fringes with horsehair ends.  Since it has a rustic look, it is hard to call the knife "mint".  So considering what it is, and the age, I'll call it near mint - unused, and never carried or sharpened.

Condition: 
  Previously owned. Near Mint Condition
                     Never used, carried, or sharpened
Overall length:   10 1/4"
Blade length:      5 1/2"

Handle length:    4 3/4"