Darrel Ralph DDR/RPB 4" Spearpoint AXD Spring Assisted Frame-Lock Flipper, Tritium Inlays (SOLD)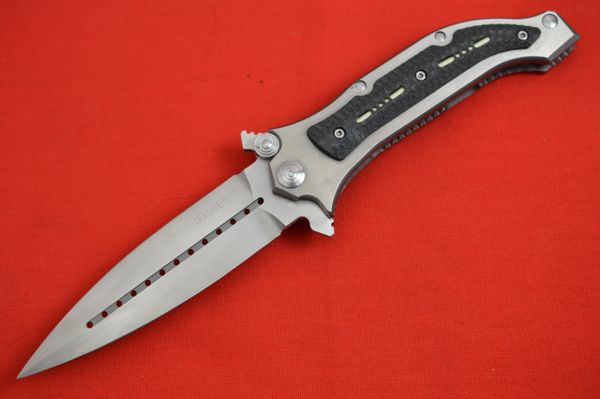 Darrel Ralph DDR/RPB 4" Spearpoint AXD Spring Assisted Frame-Lock Flipper, Tritium Inlays (SOLD)
This is Darrel Ralph's iconic AXD frame-lock flipper folder.  The AXD has been a big hit since Darrel introduced it in 2002, and it continues to have a large fan base.  It has a very unique ergonomic feel that is like an extension of your hand, regardless of size. The back of the frame has a built in pommel for those times when you may need to crack something open.
This is a very rare version of the AXD.  Can't say that I have seen another in this configuration.  The blade is marked "DDR/RPB".  RPB is Darrel's son's initials.  In 2006, he was working with Darrel as a designer.  It features a hand rubbed, satin finished 4" Spearpoint blade - obviously, not sharpened on the top edge - with a "fuller" down the center with holes.  The blade is Spring-Assisted, and fires like a rocket.  The titanium frame has "sculpted" edges on both the top and bottom, and features a black G10 inlay on the presentation side, with Tritium inlays.  The clip is also titanium, and set for tip down carry.  The blade design and flipper tab serve as an upper and lower finger guard when opened.  There is jimping on both "guards" for a secure grip.  This knife was acquired from the original owner who purchased it directly from Darrel at a Blade Show in the mid to latter 2000's.  What little carry time it saw early in it's life, was in a belt sheath.  It has been stored since.  It is not mint, but it certainly is in excellent to near mint condition.  If you look hard enough, you'll find a rub on the titanium on the titanium frame.  So minor, it is not visible in the photographs.  The clip is perfect, and the blade was never used to cut anything.  The blade sits dead center in the frame, and the lock-up is rock.  The frame-lock has an easy lock release, as well.  It will come in a padded zippered case.

Condition:  Previously owned, Excellent to Near Mint Condition
                    Never used or sharpened

Overall length:    8 3/4"

Blade length:      4"

Closed length:    4 3/4"