David Dill Mother Of Pearl Scale Release Auto, Engraved, File-Work (SOLD)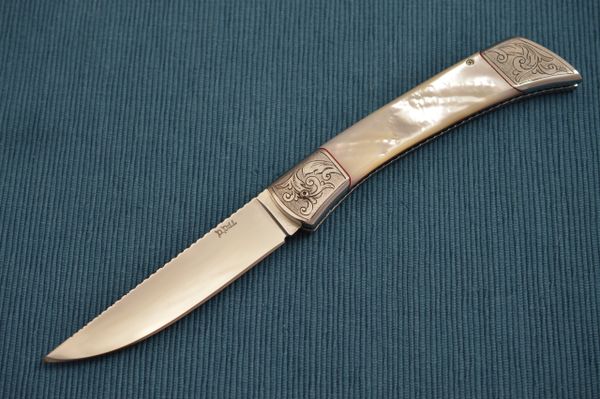 David Dill Mother Of Pearl Scale Release Auto, Engraved, File-Work (SOLD)
This David Dill scale release auto features a straight back ATS-34 mirror polished blade with file-worked spine running the entire length of the blade, except for the about 1/2" at the tip.  The scales are fiery Mother of Pearl, with red spacers around the entire perimeter of each scale.  The dovetailed front and rear stainless steel bolsters are engraved, and the lock-bar is file-worked to match the spine of the blade.  The blade sits centered in the handle when closed.  The blade exhibits nice action, and nearly every time it opens the blade locks up tight without any blade play or wobble.  Every once in a while I do feel the slightest - and I mean the slightest - "tick" from side-to-side, if you don't get the blade fully deployed.  The scale release takes a bit of getting used to, using the ball of your palm.  The knife is previously owned, and in excellent condition.  Comes in a felt pouch.
Condition:  Previously owned. Excellent.
                    Never carried, used, or sharpened.
Overall length:  9 1/4"

Blade length:    4 1/4"

Closed length:  5"