David Mosier Custom Crossfire, Tanto Grind, Frame-Lock Flipper (SOLD)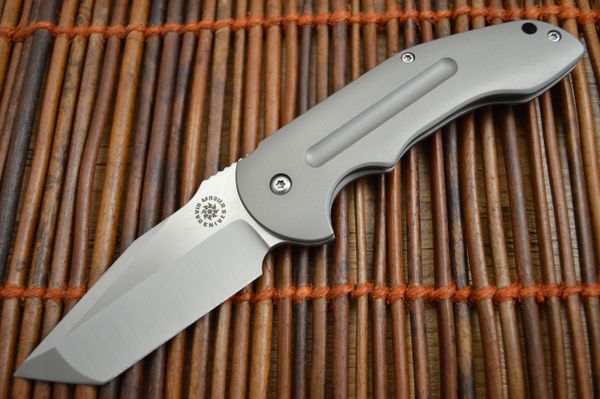 David Mosier Custom Crossfire, Tanto Grind, Frame-Lock Flipper (SOLD)
This is a David Mosier Custom Crossfire, frame-lock, flipper.  The knife features a beautifully executed Tanto grind blade.  We were told that David only made 10 in this configuration.  David's tolerances, and fit and finish are beyond reproach.  The frame of the knife is all titanium with a single fuller on the presentation side, and a black G10 spacer.  The clip is also titanium.  The knife virtually melts in your hands - the ergonomics are amazing!  The blade has a beautiful satin finish.  When the knife is opened, the flipper tab disappears into the frame.  David's level of detail even stretched to the jimping on the blade spine.  One of the most amazing things is the compact look and feel of the knife, even with a 3 1/2" blade.  The knife exhibits a very strong detent, great action, perfect blade seating, and rock solid lock-up.  The blade is running on IKBS.  David's Custom Crossfire model is difficult to find - even in the secondary market - particularly in this configuration.  It will ship in a padded, zippered case.
Condition:  Previously owned.  Mint Condition.
                  Never used, carried or sharpened
•           Overall length:  8"
•           Blade length:    3 1/2"
•           Closed length:  4 1/2"