Dawson Knives Praetorian Sword 16" - CPM-3V Steel - Specter Finish (SOLD)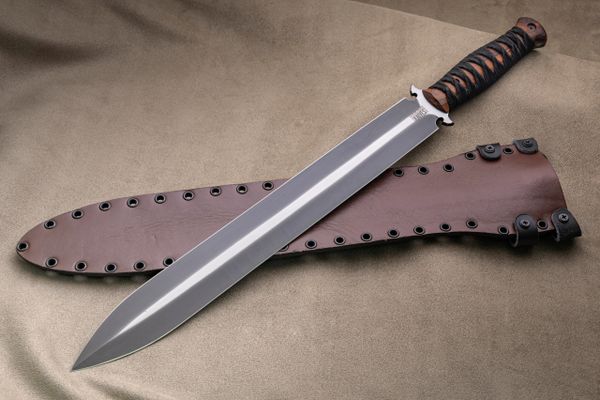 Dawson Knives Praetorian Sword 16" - CPM-3V Steel - Specter Finish (SOLD)
In 1973, Barry Dawson built his first knife shop inside a dilapidated barn.  Fresh off a stint in Vietnam and flat broke, he built most of his machinery himself out of parts scavenged from the local landfill.  What he didn't know, he learned, and what didn't exist yet, he invented.  More than 40 years later Dawson Knives has grown to encompass three generations of knifemakers, all working together out of our shop in Prescott Valley, Arizona.
Swords are some of Dawson's favorite pieces to design and build, but they do take a lot of thought, planning and work.  Each one is designed to be a 100% usable.  That alone requires an attention to detail that just wouldn't be necessary if they were intended for display only.  One of the trickiest things to get right is the weight and balance.  A sword obviously has a much longer blade than a regular knife, and yet they need to balance in a similar way.  The goal is for the sword to feel light and fast in the hand without compromising strength.  You don't want to wear yourself out just trying to counterbalance the blade's weight.  We believe the edge is what should deal the primary damage, not blunt force trauma.
When you grip the stunning, gladius-inspired Dawson Knives Praetorian Sword, you can almost hear the roar of the crowd thunder through the Colosseum.  The classic profile has come vividly to life with the finest steel modern metallurgy has to offer, crafted with skill and insight.  The Dawson Knives Praetorian Sword is 100% designed and handcrafted in the U.S.A.  It features a 0.20" thick CPM-3V American Made powder steel blade, with edge wear 3 times longer than D2 stainless steel.  The blade is heat treated in-house at Dawson, for maximum toughness, durability and edge-holding capability, with a Rockwell hardness of 60 - 61.  The blade has a beautiful two-tone Specter finish, with industry-leading clear Cerakote© finish that helps protect the blade from corrosion.  The handle is gorgeous, polished Arizona Ironwood, that has been overlaid with interlocking wrap of black synthetic silk.  The sword comes with custom fitted Leather / Hybrid Sheath for carry on belt or backpack.  No case.
Condition:  Previously Owned. Mint.
                    Never used carried or sharpened.
Overall length:   22 1/2"

Blade length:      16"
Handle:               6 1/2"
Weight:               25 ounces (knife only)
                                      37 ounces (knife + sheath)