D.E. Henry Model 2 Fighting Knife, Leather Sheath (SOLD)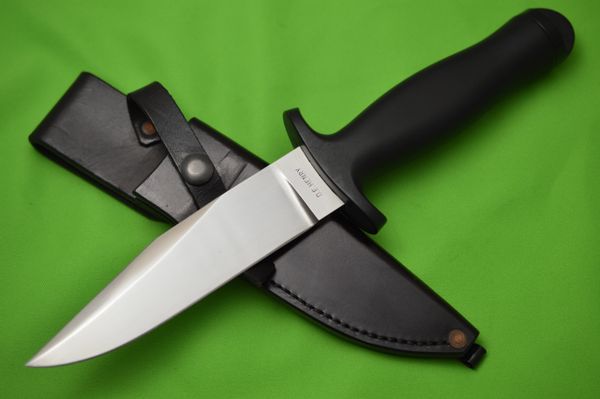 D.E. Henry Model 2 Fighting Knife, Leather Sheath (SOLD)
Say what you want about D.E. Henry, but the fact remains that he was one of the best Bowie makers of all time.  He ground his blades from 440C and D2, and didn't have much good to say about forging or pattern welded steel.  He was the first to start using a hand rubbed finish on his blades, and his Sheffield pattern Bowie is still the best out there.  When he got popular, back in the day, his prices skyrocketed.  He would not honor the prices for the many backorders.  This made many folks mad, yet demand for his knives continued to grow.  All things considered, Henry was definitely ahead of his time, and a highly skilled knifemaker.  To this day, his knives continue to be in high demand, and most remain in collections.  You don't find his knives for sale very often.  They are still highly coveted by collectors.
This is D.E. Henry's Model 2 Fighting Knife.  It features a hand rubbed satin finished 0.25" thick clip point Bowie blade, with 3" of the top edge sharpened.  The blade is 1.375" from edge to spine (depth).  The hollow handle is a solid piece of black aluminum, with a removable butt cap for storage.  This knife was previously owned, and came from a high-end collection.  The knife is in excellent, unused condition.  There are a few light micro scratches on the blade, presumably from insertion / removal from the sheath.  Included with the knife is the pictured black leather sheath, with what appears to be coper rivets.  Also comes in a padded, zippered case.  A very rare and desirable piece.
Condition:  Previously owned.  Excellent.
                    Never used, carried or sharpened
Overall length:       12"

Blade length:          6"
Handle length:        6"