Dennis Bradley Drop Point Hunter, Scrimshawed Wolf Eyes, Tooled Leather Sheath (SOLD)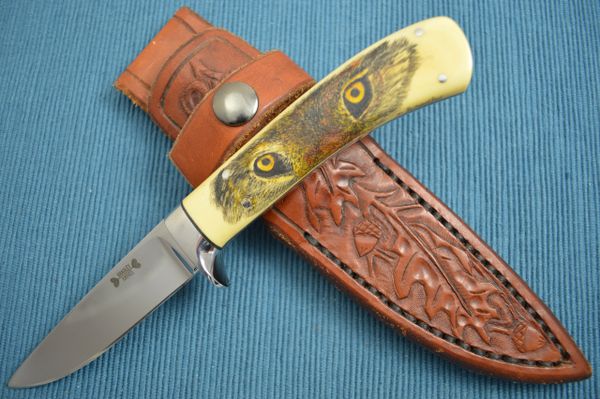 Dennis Bradley Drop Point Hunter, Scrimshawed Wolf Eyes, Tooled Leather Sheath (SOLD)
This Dennis Bradley hunter features a drop point 440C stainless steel blade, and the handle is made from Micarta scales with black liners. The presentation side has scrimshaw done by Dennis, of a wolf's piercing yellow eyes. It is beautifully done, and expertly detailed.  The single finger guard, and the pins in the handle, are all 416 stainless steel.  The knife has great lines, is well balanced, and feels great in your hand.  It is in new, unused condition.  The guard has some fine lines from inserting it into the sheath.  It was acquired directly from Dennis as last year's Blade Show, and has been properly stored since.  The knife comes with a leather belt sheath also made by Dennis, beautifully tooled with oak leaves and acorns.  The knife and sheath have matching serial number 511.

Condition:  Excellent, Near Mint Condition
                    Never used, carried, or sharpened
Overall length:      8"

Blade length:        3 3/4"
Handle length:      4 1/4"