Dervish Alchemy TAD Edition, Mid-Tech Frame-Lock Flipper, Smokewashed Blade (SOLD)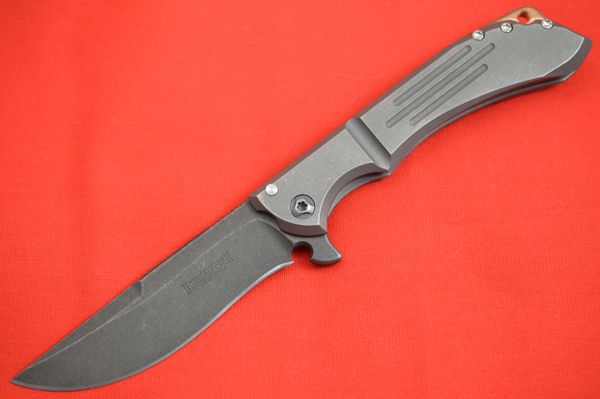 Dervish Alchemy TAD Edition, Mid-Tech Frame-Lock Flipper, Smokewashed Blade (SOLD)
John Gonzalez is the creative maker behind Dervish Knives, and is best known for his modern interpretation of classic designs.  With a degree in graphic design and illustration, and a long-standing passion for knives and swords,  John's unique perspective yields knives with clean lines and distinct visual beauty.  The Alchemy Mid-Tech is no different; this is classic Dervish at its best.  Designed to be a jack of all trades, the Alchemy is a chameleon - it's both incredibly beautiful and robust; capable of handling daily knife use and even heavier than usual EDC scenarios.
The overall finish of the Alchemy mid-tech is subdued, thanks to its Smokewash finished blade and dark tumbled titanium frame-lock.  The hand finished copper backspacer offers a striking contrast to the frame and blade.  The drop point recurve CPM-154  blade terminates at a pronounced flipper tab, that seamlessly blends into the handle acting as a guard when deployed.  Expertly profiled and chamfered, the handle offers a natural and secure grip, while the custom fold over paddle style pocket clip affords deep pocket carry.  Finishing touches on this limited edition mid-tech include two-tone pivot screw with caged bearings, our triple fullers, and TAD logo opposite Dervish on the blade.
FEATURES:
Heavily chamfered handle with contoured faux-bolster for deep positive grip and retention.
Modified recurve drop point CPM-154 blade with matte gray smokewashed finish.
Custom two-tone pivot screw.
Caged bearing pivot.
Deep carry fold-over paddle style clip.
Hand finished copper backspacer.
Triple fullers on the presentation side of the titanium fram-lock.
The blade deploys quickly and smoothly with the flipper tab, and locks solidly in place.  The blade is centered in the frame.  The knife is in previously owned, excellent condition.  It will ship with a padded, zippered pouch.  This would make a great EDC.
Condition:  Previously owned.  Excellent condition.
                   Never carried, used or sharpened.
Overall length:   8 3/8"




Blade length:     3 3/4"




Closed length:   4 5/8"