Dervish Knives WYRM Fixed Blade Pocket Knife, AEB-L, Blue Anodized Clip (SOLD)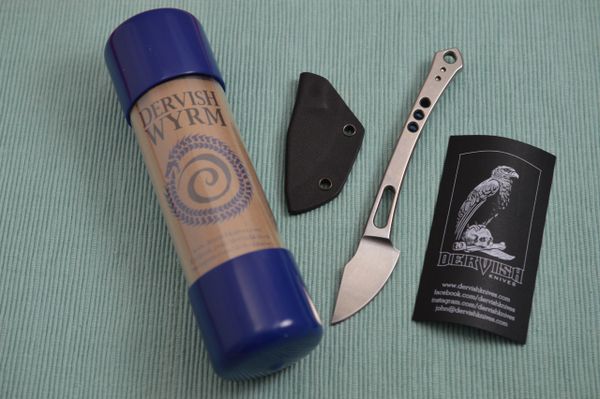 Dervish Knives WYRM Fixed Blade Pocket Knife, AEB-L, Blue Anodized Clip (SOLD)
John Gonzalez is the creative maker behind Dervish Knives, and is best known for his modern interpretation of classic designs.  With a degree in graphic design and illustration, and a long-standing passion for knives and swords,  John's unique perspective yields knives with clean lines and distinct visual beauty.  The Wyrm is no different; this is classic Dervish at its best.  Designed to be an everyday carry fixed blade, the Wyrm is both attractive and ergonomic; mimicking the curvature of the inside of your palm for better control and comfort.  It's been described as "little blade with a BIG attitude".
John originally called the Wyrm a "pen knife", because it felt and handled like a writing instrument.  Although most have referred to it as a "scalpel".  It is just the right size for a four-fingered grip, yet with a slim enough profile to be carried like a folding knife.  John made sure of that by offering the Wyrm with a pocket clip.  The Wyrm features a blade and handle made of AEB-L stainless steel, with a stonewashed finish.  AEB-L was developed for razor blades.  It is a very fine steel that is easy to sharpen, and holds a good edge.  The pocket clip is blue anodized titanium.  The Wyrm comes with a small friction fit Kydex sheath.  If you are looking for a easy to carry, fixed blade pocket knife, the Wyrm certainly fits the bill.  It is an excellent slicer, great back-up knife, or would serve you well as your primary carry.  This knife is new, and comes in a plastic tube with the pictured Dervish cards.  This knife is legal in most areas of the U.S., with its small 1.75" length blade.  Although, please know your own local knife laws regarding carry lengths.  Proudly made in the U.S.A.  
Condition:  New
                  Never used, carried or sharpened
Overall length:   5 1/2"




Blade length:     1 3/4"



Handle

length:   3 3/4"