Dick Atkinson Handmade Interframe Lock Back Folder (SOLD)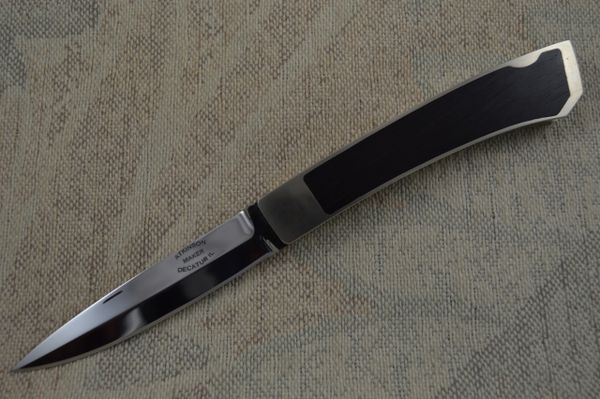 Dick Atkinson Handmade Interframe Lock Back Folder (SOLD)
Dick Atkinson large interframe rear lock-back folding knife.
This is one of Dick's older pieces, having the "Atkinson Maker Decatur IL" blade mark. It features a highly polished stainless steel drop point, spear point blade (steel type unknown), forward nail-nick pull, and fully file-worked stainless steel backspacer continuing along the entire bottom of the frame. I believe the handle to be nickel silver, framing cocobolo wood inlays. The lock up is tight with no blade play, and the blade seating is centered. Both the blade and handle are in excellent condition.
There is the slightest evidence of handling / storage / age on the frame.
Condition:
Previously owned. Excellent.
Never used, carried, or sharpened.
Overall length: 8 1/4"
Blade length: 3 1/2"
Closed length: 4 3/4"