Dick Dorough Lock Back Folder (SOLD)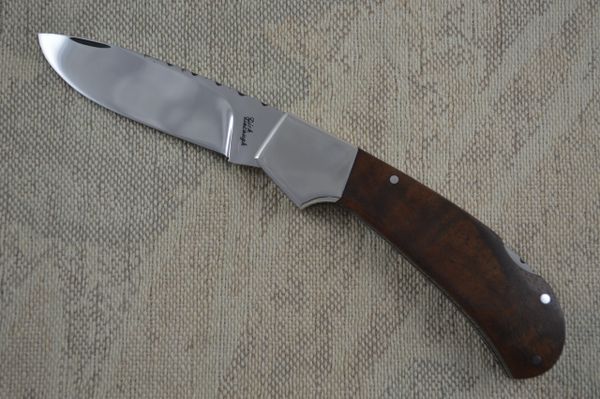 Dick Dorough Lock Back Folder (SOLD)
Dick Dorough sold his first knife in 1968 and by 1995 he had retired from knife making. His reputation for crafting fine, durable knives was well established. He had been a longtime member of the Knifemakers' Guild. Dick hailed from Southside, AL. Sadly, the knife world lost Dick in 2008 at the age of 83. His folders are hard to come by in the secondary market. Dick's career went back to the days of
W.T. Fuller
and
Harvey McBurnette
- all 3 were good friends and knifemakers who originally worked together at the Good Year Tire and Rubber Factory in Gadsden, AL.
This lock back folder features a front nail nick pull, mirror polished blade made of 440C stainless steel, mirror polished dovetail bolsters, unknown contoured hardwood handle (possibly walnut), rear lock release, and file-work along the entire length of the handle that seamlessly continues along the spine of the blade - I mean you can barely see where they meet. The opening is smooth as silk, the knife locks up tight with a resounding snap, and sits centered when closed. Marked Dick Dorough on the tang. Some minor curved rubs on the tang from opening and closing. Dick's attention to detail was outstanding!
Condition:
Previously owned. Excellent.
Never used, carried, or sharpened.
Overall length: 7 1/2"

Blade length: 3 1/4"

Closed length: 4 1/4"