Dickie Robinson, M.S. Damascus Bowie Stag Handle, Rowe Leather Sheath (SOLD)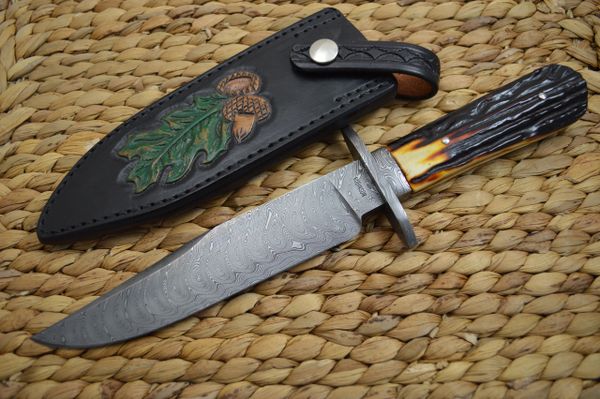 Dickie Robinson, M.S. Damascus Bowie Stag Handle, Rowe Leather Sheath (SOLD)
This is one of Dickie Robinson's fine Mastersmith Damascus Bowies. I acquired this knife directly from Dickie at a Jerry Fisk Micro Invitational Show several years ago. Dickie was not the featured Mastersmith that year, but he was there as an "attendee". It has been stored outside the sheath, in a climate controlled environment, and kept coated in oil. So, I consider this new from the maker. HOWEVER, as you know, Dickie sadly passed away in September of 2014. His knives are becoming increasingly scarce, as collectors are reluctant to part with them. Dickie consistently produced quality work, even dating back to his days as a Journeyman Smith. He has been, and will continue to be missed at the Blade Show and Hammer-Ins.
I do not recall what steels Dickie used to forge the Damascus blade, but I believe he called the pattern West Texas Wind. The guard and bolster are also forged from Damascus. The handle is made from two (2) beautifully matched Amber Stag scales secured with stainless pins. Dickie had Kenny Rowe of Rowe's Leather make the snap closure belt sheath. Kenny highlighted the sheath with a green oak leaf and a couple of acorns. A real nice touch to complement the knife. This is an outstanding example of Dickie's extraordinary work, may he rest in peace.

Condition: New from the maker
Overall length: 12"




Blade length: 7"