Direware M8 Flipper, Damasteel Multi-Grind Blade, Titanium Frame Single Side Fuller Pattern (SOLD)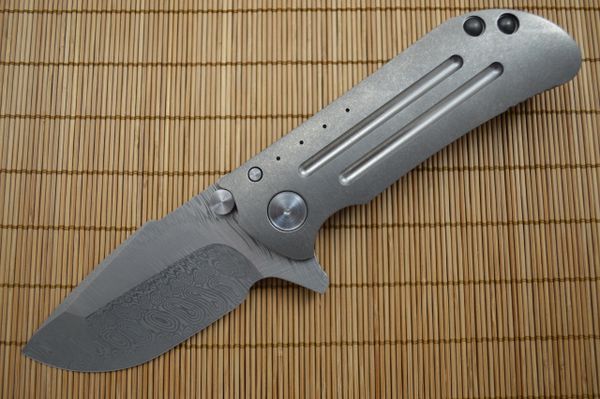 Direware M8 Flipper, Damasteel Multi-Grind Blade, Titanium Frame Single Side Fuller Pattern (SOLD)
Direware Custom Knives are some of the finest, overbuilt tactical folders. They are built like a tank, yet display outstanding fit and finish, and flawless performance. The flipping action is smooth as silk, they lock up like a bank vault, and the frame-lock is easy to release. Direware uses only the best materials, superior engineering methods, and have gone through extensive testing by a former special operations team member. Windy City Knives is privileged to be able to offer this knife direct from Direware.
This frame-lock M8 flipper features a full titanium frame with single side fuller pattern and tumbled finish, and a Damasteel multi ground blade with etched finish. The knife comes in the original box provided by Direware, as well as the mesh sleeve for storage protection.
Condition: Brand New From Maker.
• Overall length: 8 1/4"
• Blade length: 3 1/2"
• Closed length: 4 3/4"