Direware M8 Flipper, Ti Frame, Double Sided Orange / Black Carbon Fiber Inlays, Satin Blade Black Ceramic Flats (SOLD)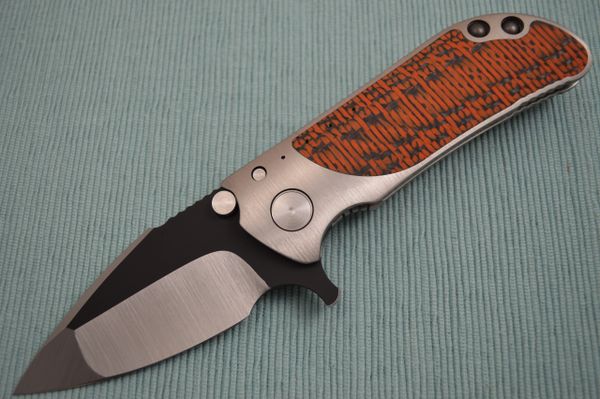 Direware M8 Flipper, Ti Frame, Double Sided Orange / Black Carbon Fiber Inlays, Satin Blade Black Ceramic Flats (SOLD)
Direware Custom Knives are some of the finest, overbuilt tactical folders. They are built like a tank, and display outstanding fit and finish, and flawless performance. The flipping action is smooth as silk, they lock up like a bank vault, and the frame-lock is easy to release. Direware uses only the best materials, superior engineering methods, and have gone through extensive testing by a former special operations team member. Windy City Knives is privileged to be an authorized dealer for Direware.
This frame-lock M8 flipper features a full titanium frame, satin finished, with double sided bolsters and Orange / Black Carbon Fiber inlays. The multi-grind blade is M390 with a satin finish, and tumbled black ceramic flats. And check out the grinds on this blade - we love the "pig-sticker" point - it is needle sharp! The combination of orange / black inlays on the handle, and black ceramic flats on that blade shape, gives the knife an awesome look. The blade flips effortlessly, locks-up tight, exhibits excellent detent, and is seated dead center when closed. The knife comes in the original box provided by Direware, as well as the mesh sleeve for storage protection.
Condition: Brand New From Maker.
• Overall length: 8 1/4"
• Blade length: 3 1/2"
• Closed length: 4 3/4"